Diddy Hasn't Given Up On Love and Doesn't Want You To Either
In an interview with BET.com, the music mogul explains the source of his philosophy and why it took him 13 years to drop his latest project, "The Love Album: Off the Grid."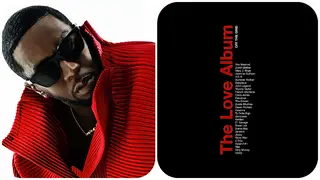 When you talk about the full span of hip hop over the last 50 years, no doubt the conversation will include Sean "Diddy" Combs. His imprint as an artist, producer, and executive can be traced back to the moment when he first started his own record label, Bad Boys Records, over 30 years ago. And while we may primarily know him for his indelible presence in hip hop, it's his R&B bonafides that are equally undeniable.
As a talent director at Uptown Records, Diddy helped introduce the world to the voices of Mary J. Blige and Jodeci and once he started Bad Boy, he went on to sign '90s staples including 112, Total, and Faith Evans. Last Train To Paris, Diddy's 2010 album, which featured Dawn Richardson and Kelena Harper under the collective name Dirty Money, still has a cult following, and its integration of global dance music with R&B vocals and hip hop was a harbinger for the direction Black music would take in subsequent decades.
After amassing more than 100 million record sales worldwide, plus countless awards and recognitions (including receiving MTV's Global Icon Award at the VMAs earlier this week), Diddy debuts his latest project, The Love Album: Off The Grid, which drops today (September 15). It marks his sixth album and his first studio record in 13 years. He's using it as an opportunity to return to his first love, namely those R&B roots. In 2021, he started Love Records, a label whose sole goal is to create timeless R&B music with the next generation of world-class artists, producers, and songwriters, and now he's hitting the ground running as executive producer and curator on this latest project.
Along with his creative prowess, Diddy had to find a way to also support his numerous business interests, which include his spirit brands Ciroc and DeLeon, his television network Revolt, and his fashion brand Sean John, among others—but he still insists that music provides a fulfillment that none of his other ventures can mirror.
"I had to really make a decision on my happiness. I have a lot going on with the business, but I just missed the creative side, the artist side," Diddy said in an interview with BET.com. "Returning to that and being able to prioritize that, I'm not trying to do this and then run all of the different companies."
According to Diddy, the album took more than two and a half years to complete, which forced him at times to defer his business duties in order to fully tap into his creativity.
"That's the other side of success: you have to come full circle, back to just being who you were in the basement before you had money, just making a beat and making a song. So that process to shed all of this stuff—to just be a raw artist in a studio, no entourage, just sitting there by myself figuring things out—it takes time to make the transition."
Diddy assembled a loaded guest list of phenoms from across various eras of music to help him tell this story: The Weeknd (who claims that it's the last feature of his career), Justin Bieber, Mary J. Blige, Jazmine Sullivan, H.E.R, Summer Walker, Babyface, John Legend, Swae Lee, Teyana Taylor, and Coco Jones are just a short list of those who contributed to the album. Diddy says that despite the large roster of collabs, every featured artist was a "dream come true" to work with. He fondly recalls working on The Weeknd's record eight years ago, connecting with H.E.R. for the first time, recording with Jones before she ever released her first single, unlocking Swae Lee's crooning side, and reuniting with Blige and K-Ci.
Rappers, including 21 Savage, French Montana, and Busta Rhymes, appear on various singles on the album. Nonetheless, Diddy still wants to shine a bright light on R&B. He believes that certain entities "that wasn't from our culture" conflate the two genres, diluting the potency of R&B's presence and bright talent pool.
"I know we look alike, but it's not the same thing. What hip hop does is what hip hop does, and R&B does what R&B does. But we have a system that's built like we should compete against each other, and it's not that," he said. "If you're playing baseball, you're playing for the World Series. If you're playing football, you're playing for the Super Bowl. That's just how I see the different categories of music, where everybody could excel in being their own individual."
At 53 years old, Diddy still values the idea of creating a soundtrack for people "to dance to, make love to, ride in the car with your girl to, and go off the grid to." In addition to its multifaceted functionality, he says that the album also gave him a chance to reflect on his past relationships with gratitude. A particular highlight on the album is the song, "Kim Porter," in which he enlists the brilliance of Babyface and John Legend to help him memorialize Porter, the late model/actress who is the mother of four of his seven children.
"I've learned just how blessed I am to have had these different love life experiences and these different experiences with love languages. It really made me look back on my life, my loves, my relationships, and where I'm at now," he said.
After listening to the album, his words become even more reticent, giving a preview of where his head is these days. It's the type of grown-man honesty and growth that comes with surviving the good, the bad, and the ugly and coming to the conclusion that this is exactly what life is all about.
"I've been blessed to actually go off the grid. I've been blessed to be in love. I've been blessed to have my heart broken but then be able to get back up, and love again, and not give up on love. Even after all the different things that I've been through and what I've put people through, I still haven't given up on love."
---
William E. Ketchum III is a multimedia journalist who covers music, TV/film, pop culture, race, and social justice. You can find him on X (formerly Twitter) @WEKetchum