EXCLUSIVE: The Jan. 6 Insurrection One Year Later: Rep. Sheila Jackson Lee Recounts One of the Worst Days in American History
In an interview with BET.com, the Texas congresswoman remembers the danger she found herself in when domestic terrorists stormed the citadel of democracy.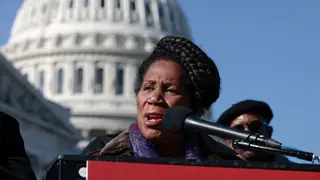 Before the insurrection of Jan. 6, 2021, the United States Capitol building had been thought virtually impenetrable. A federal structure with the tightest security that nobody, much less a group of angry right-wingers, could burst into.

That was proven tragically wrong when hundreds of people, bolstered by an absurd belief that Donald Trump was cheated out of a win in the 2020 presidential election, rushed into the structure, smashing windows and destroying property. As this happened, lawmakers were trying to certify the election results, carrying out their constitutional duty as they have for two centuries.

Democratic Texas. Rep. Sheila Jackson Lee was among them and said despite her repeated participation in this process during her 27-year tenure in Congress, including during the 2000 election when former Vice President Al Gore lost to then-Texas Gov. George W. Bush and in the 2016 election when former Secretary of State Hillary Clinton lost to Trump, each time, she says, she objected, but the transfer of power was handled peacefully. This time was different.

"In this instance, I felt a certain tension in the chamber, a certain uneasiness, that I've never felt before," Jackson Lee told BET.com. "That there was probably some reality, to the fact that there would not be a peaceful transfer of government."

The 2020 election had seen the largest turnout of any U.S. election in history. According to the Pew Research Center, as many as 158 million ballots were cast. Republicans in key states including Wisconsin, Michigan, Pennsylvania, Georgia, and Arizona cried foul when election officials said Joe Biden had won and electoral votes went to him. Trump loudly said the election was "rigged" against him and his supporters became incensed. Nefarious groups became angry enough to rally at the capitol under what they said was their leaders' request.

"That said something," Jackson Lee said. "it was something eerie about the fact that there was so much power behind the election that generated a victory for Joe Biden and Kamala Harris. But in the midst of those thoughts, in my mind, sitting in the gallery, insisting on being part of this historic moment, you began to hear noises.

"The first movement was the Republican members…seemingly leaving the chamber very quickly," she continued. "I even asked myself out loud, where are they going? At the minute that my mouth move...I saw or heard the shouting from the cloakroom. It was the sergeant-at-arms saying to close the chamber doors and at that point people in the chamber began to gather their belongings and flee," Jackson Lee said.
"Your heart began to pound very deeply, you really didn't know what would be the outcome. Would you be injured? Would someone fall over the balcony, out of fear or panic?" she said. "We were moving through the gallery as quickly as we could, at a certain point and decided to just leave the scarf that I was carrying, I think I left a scarf and a notebook, I knew I had to keep my phone," Jackson Lee continued.
"We finally got to the other side of the gallery where we might be able to exit, but at that time, the sound of the raging, violent crowds was definite," she said. "And as we were crouching and peering and looking, we heard that first shot," which Jackson Lee later learned was the shot that killed Ashli Babbitt, a rioter who tragically died because she was led there by Trump.
An Unimaginable Collapse

After that, Jackson Lee said the capitol dropped into complete chaos. The middle of the chamber got bombarded with furniture, men walked around with guns drawn, plainclothes police had made it inside, but on the other side of the room, she could hear the banging of rioters who had at this point completely disrupted the peaceful transfer of power. Some damaged offices of legislators and officials; others roamed the halls of the capitol taking selfies to post to social media, bragging about what they had done. But for Jackson Lee, it was much more severe. She told people who had reached her by phone that the capitol was under siege.

"I could hear my breath, sort of outside of my speaking, it seemed like I was out of breath," Jackson Lee continued. "At some point, we got the signal that we could, in essence, escape downstairs and through tunnels. As we escaped at that moment, we could see the insurrectionists down on the ground under the eyes and guns of the Capitol Police.

"That was at least the first episode of the first stage of what happened on January 6 to those of us who happened to be in the gallery for the peaceful transition. So your mind became clouded with relief that you had made it. Then a sense of anguish, and wonderment and disbelief about the behaviors that day."

Despite that, lawmakers did return late that night to move through what they had assembled to do: certify the election of President Joe Biden. They did it as Pence, in his duty as senate president, led them, undeterred from doing their jobs under constitutional mandate. Transfer of power did happen, but for the first time in American history without the order that the nation was accustomed to.

Jackson Lee said that she had been in the same capitol building when foreign terrorists attacked America on Sept. 11, 2001. Still, Republicans and Democrats took cover together as smoke billowed from the Pentagon on that day. "But you didn't see a Republican or Democrat; you saw a patriot, an American friend, a colleague," she remembered. "And we were all trying to save each other and speak to each other and comfort each other. There was a sense of unity in our fear.

"In this instance, we had circumstances where you question who was a patriot, who was for you, or for America, or for a new president being elected," she said. "It was a different kind of feeling. And later as we begin to understand, race began to raise its ugly head with the symbol of the noose, and Black officers being called names in the sense that if they had caught a Black member, since they were there to kill us all, including leadership, that there would be violence that one could not imagine."

A total of five people died in the melee, and 140 were injured. More than 700 people were charged with various crimes, and Trump himself faced a second impeachment which proceeded after he left office in an attempt to prevent him from running for public office again. In February 2021, the Senate voted to acquit Trump of inciting the insurrection.

But there were also heroics that day. Capitol police officers faced off with the rioters, some of whom specifically targeted House Speaker Nancy Pelosi and former Vice President Mike Pence (including setting up a gallows and noose to hang him). One officer, Eugene Goodman, managed to divert a mob headed directly to the Senate chamber, which was unguarded, leaving people vulnerable to attack. Goodman was later awarded the Congressional Gold Medal.
But Jackson Lee is critical of the intelligence and security infrastructure designed to protect the capitol and wonders why it collapsed that day as a congressional committee continues to investigate. "There are early reports that indicated that there was a complete breakdown as relates to intelligence information given to the Capitol Police," she said. "My question has always been to [FBI Director Christopher] Wray. Why didn't he immediately dispatch himself to the United States Capitol when the intelligence began to appear that something was wrong.

"Why didn't they unleash the National Guard, either through [Washington D.C. Mayor Muriel] Bowser, or the governors of Virginia or Maryland, who did not get permission to send the National Guard until late into the day? Why [did] the Pentagon seemingly never picked up the phone to answer the please and call of members? So it is really terrible that we had a collapse of intelligence, and a collapse of information that would allow the officers that are the United States Capitol Police to prepare properly," Jackson Lee said.
The People Behind The Chaos

Multiple right-wing and white supremacist groups had been on the radar of the House Homeland Security and Judiciary committees, both of which Jackson Lee is a member, for two or three years. These include groups like the Proud Boys, the "Boogaloo Boys," various neo-nazi splinter groups, not unlike those present during the deadly 2017 white supremacist rally in Charlottesville, Va.

"The tragedy of all of this is the fact that these were allowed to mix in with so-called followers of Donald Trump who just simply believed there was a stealing or a loss that was not truly lost, and that Donald Trump won," she said. "Obviously, that was a big lie. But it was a welcoming mat, it was a sponge for all these white racist groups, these Nazi groups, and they all became one word: tools of domestic terrorists and insurrectionists."

Jackson Lee said that the work of the bipartisan Jan. 6 congressional committee is moving things in the right direction. Other committees like Homeland Security and Judiciary are also working on moving forward with new legislation.

"But we've got a handle around the fact that something evil happened," she said. "I believe that there is something that Dr. Martin Luther King has challenged us as the Beloved Community, that there are people who consider themselves patriots and Americans and that there will be that larger voice."

RELATED: Black Mayors, Appalled At U.S. Capitol Rampage, Point Out Trump's Hypocritical Call For 'Law and Order' During BLM Marches

RELATED: Man Pictured Carrying Confederate Battle Flag In Capitol Riot Is Arrested With Son

VIDEO: Black Capitol Police Officer Remembers Being Called N-Word During Jan. 6 Insurrection

Trying To Move Forward

Immediately after the insurrection, Jackson Lee called for the nation's healing divided on everything from politics to the coronavirus pandemic and says she still stands by that call.  "I am a student of Dr. King's concept of the potential of the Beloved Community, but we do have a very long way to go," she explained. "The big lie has metastasized into this viciousness and divisiveness over the question of to vaccinate or not vaccinate, to mask or not mask, to test and not test, really ridiculous and ludicrous positions on people's lives lost.
"So it is nonsensical to think that we allow ourselves to divide, and then we die," she continued. "But I have hope; I have continuing hope. I see relationships; I see small children working together. I see middle schoolers and high schoolers working together; I see local governments, people of diverse backgrounds working together.  But if we do not work at unity, work at the Beloved Community, it will not come.  Our commitment is to do so. But at the same time, I will not run away from injustice because we know the words of Dr. King: 'injustice anywhere is a threat to justice everywhere."

Free speech, she said, allows disagreement but should not indulge nazism or the rhetoric of groups like the Proud Boys or "Boogaloo Boys" or other white supremacist groups with violent intentions.

"That is not what the bulk of the men and women who wear the uniform go to faraway places to protect," Jackson Lee said. "They want to protect the idyllic view of democracy in America where people can peaceably be free, free in their movement, free in their beliefs, free in their religious beliefs, and free to be Americans. I still hold those dreams, and I will still fight for those things."