You Tried It: Mom Calls Out Textbook Publisher for Inaccurate Passage About Slavery
McGraw-Hill tells a different story about slavery in America.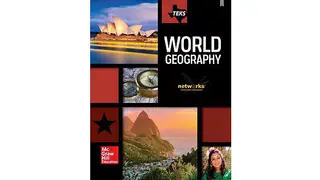 It's no surprise that for decades textbooks have deliberately omitted truths that reveal America's ugliest secrets. But this high school textbook's unique narrative on slavery just met its biggest match.
Meet super mom Roni Dean-Burren in Texas. She is leading the crusade against giant book publisher McGraw-Hill for their big mistake.
While her 15-year-old son was sifting through his textbook, he initially discovered a passage that didn't sit with him too well. "The Atlantic slave trade between the 1500s and the 1800s brought millions of workers from Africa to the southern United States to work on agricultural plantations," it read under a section titled "Patterns of Immigration."
Clearly outraged by the verbiage in the passage, Dean-Burren took to social media to explain her frustration in a video initially shared on Facebook. In no time, her video was watched 1.5 million times, to which she gathered an overwhelming support from strangers who shared her sentiments.
In her response, she expressed that she felt insulted that the publishing company would include Africans in a section about "immigrants" and refer to them as "workers."
Dean-Burren also discussed how the textbook readily identifies that some European people came to America as "indentured servants" who received "little to no pay."
She went on to write, "So they say that about English and European people, but there is no mention of Africans working as slaves or being slaves," she said. "It just says we were workers."
The video made its way to ears of publishers at McGraw-Hill, who released a statement regarding the book on Friday. In their statement, the publishing company writes:
This program addresses slavery in the world in several lessons and meets the learning objectives of the course. However, we conducted a close review of the content and agree that our language in that caption did not adequately convey that Africans were both forced into migration and to labor against their will as slaves.
We believe we can do better. To communicate these facts more clearly, we will update this caption to describe the arrival of African slaves in the U.S. as a forced migration and emphasize that their work was done as slave labor. These changes will be reflected in the digital version of the program immediately and will be included in the program's next print run.
Ecstatic about the news, Dean-Burren took to Facebook to share her joy about company's decision to change the wording:
"This is change people!!! This is why your voices matter!!!
And to my sweet boy, my only son....my man man Coby Burren...look at your power son!!!
BET National News - Keep up to date with breaking news stories from around the nation, including headlines from the hip hop and entertainment world.
(Photo: McGraw Hill Education)