F**k What You Heard: Black Women Can Totally Get Chemical Peels
We're demystifying the dermatological procedure — with the help of celeb doctors.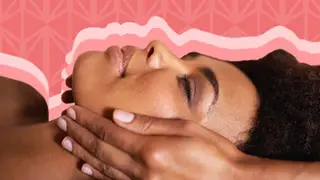 Let's face it: adult acne (and residual hyperpigmentation) can be a pain in the a**.
For women of color (WOC), the trials and tribulations of suffering from skin conditions are compounded by being blessed with melanin. Of course, we love the main ingredient in #BlackGirlMagic — but the same element that makes us easy, breezy, beautiful Black girls is also the main culprit in one of the toughest aspects of our complexion: uneven skin tone. 
In trying to achieve a skin glow up that would rival that of your favorite celeb, we set out to get the low down on some dermatological procedures that have long mystified us. For instance, the chemical peel. Some love it, some have tried it once and declared "never again."
As we transition into winter weather, and the needs of our skin change, we asked experts: Chemical peels, are they friend or foe? Find out more below. 
Before we get into it, let's back up. If you're wondering just what a peel actually is, we've got you covered. The sometimes elusive procedure can be used to counter a multitude of skin issues, including wrinkles, acne (and subsequent acne scarring), and hyperpigmentation/uneven skin tones.
A chemical solution is administered by a dermatologist to accelerate the process of exfoliation. But do not equate a chemical peel with the St. Ives apricot scrub that you can cop at your local pharmacy, folks! Though both exfoliants, the two treatments are not one and the same. 
Among the three dermatologists we spoke to, one thing is for certain: not all peels are created equal! There are levels to this sh*t (#FreeMeek). Different types of chemical peels range both in levels of intensity and the issues they seek to target.
If you're interested in receiving a chemical peel, it's important to first discuss with your doctor your skin concerns and the extent to which your skin is sensitive. Chemical peels are not the type of procedures you get on a whim without proper research — unless you're down to peel like an onion for a month. No, seriously — some peels that combat wrinkles can leave you molting like a snake for some 20 days. [Editor's Note: Professional-grade peels should never be done at home. Here is a cautionary tale on that matter, via YouTube.]
There are three main categories of peels: superficial/mild, medium, and deep. Consult a certified skin expert about which one is right for you — and if it's your first peel, it's definitely best to err on the side of caution. 
Acclaimed aesthetician Mamie MacDonald, whose clientele list includes the likes of Diddy, Jay Z, Angela Bassett, Iman, and Ebonee Davis, broke it down for us: 
• The "Alpha Hydroxy Acid (AHA) Peel" is a superficial/mild peel and is mild enough to apply to sensitive skin. It exfoliates the dead skin cells, prompting the growth of new skin cells with no down time. This peel is suitable for treating sun damaged skin, hyperpigmentation and oily skin types. With this type of peel several treatments may be done over a period of time to achieve the desired results. Skin looks clearer, cleaner and healthy. Expect very little peeling with AHA and no real down time. After a peel the skin can be a little dry and sensitive, so we suggest no cardio or makeup for a day (or two). 
• A "Medium Peel" is performed by a derm or aesthetican. This level of peel is generally performed with a solution of trichloroacetic acid (TCA) or a higher percentage of glycolic acid. It is also applied to the skin with a cotton or Q tip to deeply penetrate the deeper skin layers to treat acne scars, fine lines, and hyperpigmentation. The peeling process may take anywhere from 7 to 14 days.
• A "Deep Peel" is performed by a derm using phenol which is the strongest chemical solution. A very high concentration of TCA can also be considered a deep peel. This deep peel level improves damaged skin cells, deep lines, freckles and scarring. This peel can take up to 21 days to peel off and heal. Absolutely no sun for six months and sunscreen daily (like you should be doing anyways!)
Though there isn't one ideal skin type that should receive peels, the above information in conjunction with your concerns can help deem which would be most advantageous to you.
However, proceed with caution: while chemical peels are safe for all skin tones, receiving one that doesn't match your skin's needs could actually leave you with more damage than you began with!
"You can perform many (but not all) superficial peels safely on all skin tones. Medium and deep peels may cause severe hyperpigmentation and scarring in darker skin tones," shares Dr. Sumayah Jamal. "Many times a physician who specializes in skin of color will address that on their practice websites. Also, referrals from friends and family are very helpful in identifying dermatologists who specialize in skin of color."
We've taken extenuating measures to caution folks against receiving peels too strong — hey, we've seen some stuff — but the mild level of peel may not even cause you to shed on at all (or not that you could see with the naked eye, anyway).
According to Dr. Anna Karp, it may take two to four treatments prior to seeing results, and treatments may be administered every two to four weeks. "Some peels are working at a microscopic level and you will see minimal shedding, but it does not mean it is not working," she explains. 
With all that in mind, the gentlest type of peel is available to try in the comfort of your own home. Our editors recommend Dr. Gross's Alpha Beta Universal Daily Peel. The $16 pack, available at Sephora, affords you five at-home treatments — the recomended amount to see if it works for you (and if its worth future investments).
All three doctors agree: peels can be for everybody, it's just a matter of finding what works best for you. Consult your doctor prior to experimenting with peels to avoid a worst-case scenario. Happy peeling!