Hold On To Your Saber! 'Star Wars: The Last Jedi Trailer' Is Epic AF
May the force be with us.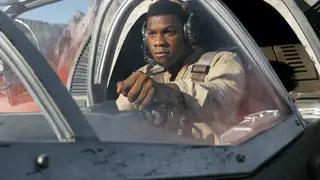 Star Wars: The Last Jedi is one of the most anticipated films of the year, and the newest trailer just dropped, damn near breaking the internet — racking up eight million views on YouTube in 11 hours. The trailer is absolutely epic.
Star Wars: The Last Jedi is the eighth installment in the franchise and begins where 2015's Star Wars: The Force Awakens ended. The film includes Mark Hamill, the original Luke Skywalker, and the late, great Carrie Fisher as Princess Leia. Plus, Daisy Ridley as Rey and John Boyega returns as Finn — he's looking like a boss in the trailer, leading the Stormtroopers. Lupita Nyong'o also reprises her role as Maz Kanata.
Star Wars: The Last Jedi drops on Christmas Day. Watch the trailer below!
Watch John Boyega talk his last film, Detroit, in the video above.