Timbaland Planning AI Startup Following Backlash Over Use Of Notorious B.I.G.'s Voice
The hit-maker is planning to "commercialize artificial intelligence software."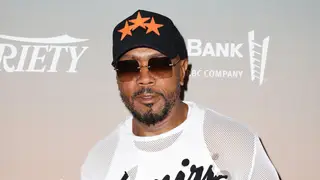 Timbaland is continuing his foray into AI and music with his new startup.
In a recent interview with Forbes, the Virginia hit-maker said he plans to "commercialize artificial intelligence software" in hopes of rethinking how music is made in a variety of situations.
"It's going to really be a new way of creating and a new way of generating money with less costs," he said. "I'm already here. This is what I'm doing. I'm going to lead the way."
Light Energy Labs, a Miami-based company that Timbo co-founded last year with programmer and producer Zayd "Creatrgod" Portillo, reportedly developed the software. The producer believes that AI voice filters will "usher in a new era" of technology in music that will benefit both emerging and established artists. It will also provide the opportunity for a producer to use the voice of "a music legend who is no longer with us."
That said, Timbaland notes that there are "legal issues centering on copyright and revenue-sharing" that need to be resolved before certain music can be released.
The move comes after Timbaland received backlash for using The Notorious B.I.G.'s voice in a recently released song he created. In an Instagram post, he acknowledged the controversy behind the latest technology and "the feelings of violating certain things, but let me tell you something. I got a solution."
He reiterated, "I got a solution… We working on it .. it's going to be beneficial to everybody, but in the meantime, you know, I got to share something that I've been working on because I always wanted to do this, and I never got the chance to."