This Dad Made the Ultimate Sacrifice to Send His Daughter to College
He wants her to avoid the burden of student loan debt.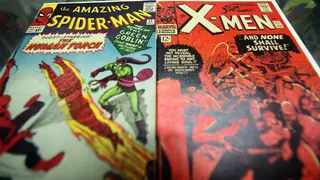 After years of collecting comic books, some of which are worth a fortune today, a dad is giving it all up to fund his daughter's college education.
Al Sanders told Good Morning America the thought first came to mind when he saw how much tuition would cost to send his daughter to Fisk University in Nashville. After he noticed that it was a pretty penny, he decided that letting go of his lifelong collection, which was stored in 10 cardboard boxes of 500 each, might be the best option.
He felt no issue in parting with the comics seeing as his daughter Rose, only 16, will be graduating high school early to start college.
The Seattle native told KING5 that the selling process is nothing new to him as he sold his plasma twice a week for $30 when he was younger to keep buying more comic books. Now, he plans on taking the collection to Emerald City Comic Con this weekend to scope out a buyer who will hopefully take the entire collection, which mostly consists of vintage Batman and X-Men comics.
"As all parents who have college-age kids, we started putting together what it was going to cost and what we needed to do," he told ABC News. "You start looking at those options you have, and my comic books were an option. That's when I looked at their value, and I'm now trying to find a good home for them."
While in recent years, the value of comic books have been gradually dropping, we're sure there's someone out there who would be interesting in Al's offer.
(Photo: Mario Tama/Getty Images)