Peter Rosenberg Fires Back at Chuck D
Hot 97 host says Public Enemy co-founder's negative statements about urban radio was his way of "trolling" for a reaction.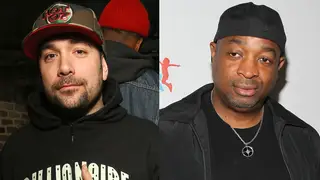 Rosenberg talked about Chuck D during his "The Realness" segment on Hot 97 Monday (June 9), concluding that the Public Enemy co-founder is just "trolling" for a response and has no real intentions of actually changing urban radio.  
"First of all, Chuck D has always hated radio," he noted after expressing his respect for the hip hop legend. "He hated WBLS and KISS when they were Black owned and now you hate Hot 97. Hip hop's doing pretty well. Last time I checked we had some amazing artists out there selling tons of albums. Last time I checked there are two tours selling out football stadiums with hip hop, not too bad. Now is hip hop perfect? Absolutely not. But was it perfect when Chuck D was active in the game? Absolutely not."
Rosenberg went on to point out that Chuck D doesn't run hip hop or radio, for that matter. "Chuck D, no one elected you president of hip hop," he continued. "We love you, you're a father of this game, you contributed but we did not elect you president of the culture. No one owns hip hop."
He also questioned what Chuck D currently does to push hip hop culture forward outside of "tweeting confusing messages in 140 characters or less."
True to form, Chuck D responded to Rosenberg on Twitter. "Some cats said I was 'trolling'.? Hmm.if so ..Trolling vs Controlling is warranted.Tell them they better get better with WORDS to come at me," he wrote in one of several tweets directed at the radio host, who then engaged him in a Twitter "debate."
Their opinions may differ but there doesn't appear to be any hard feelings between the two. Before they went back and forth on Twitter, Chuck D invited Rosenberg and the Hot 97 team to hear him speak at a Harlem mosque next month. 
(Photos from left: Astrid Stawiarz/Getty Images for Roc Nation, Rob Kim/Getty Images)