Behold: The Most Hilarious Commentary On 50 Cent's Relentless Feud With Ja Rule
"What I do now?"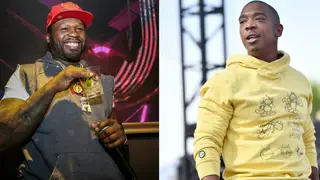 Queens-bred social bully 50 Cent has viciously mocked many for the most outlandish reasons. Fif has feuded with Dipset legend Jim Jones, boxing champ Floyd Mayweather Jr., and pretty much any woman he's slept with. However, the petty emcee might've met his match.
Saturday Night Live, the famed late-night sketch comedy show added Fif's vehement feud with fellow Queens native Ja Rule to their "Weekend Update." They mentioned the recent moment when the "Wanksta" rapper admitted that he was going to purchase 200 front-row seats to Ja Rule's concert, just so they'll be empty. 
SNL trolled the Murder Inc. icon by saying, "ironically 200 tickets to a Ja Rule concert costs exactly 50 cents."

The Power star, nonchalantly captioned the clip, "LOL what I do now?" Fif has referred to himself as Batman, well "Gatman," and some are referring Ja to the Joker. In a strange way, the two "complete each other,"  a nod to Heath Ledger's classic depiction. In lieu of directly responding to the SNL skit, Ja felt the jokes shouldn't end there. He trolled Fif's attire by dubbing his likeness that of a DC cab and shared a snippet of the crowd singing to his timeless smash, "I'm Real," who also made his day with the "pleasant surprise" of chanting "f**k 50 Cent."