Diddy Admits Cassie Wasn't Exactly Down With His J. Lo Reunion
She "had some questions" about their relationship.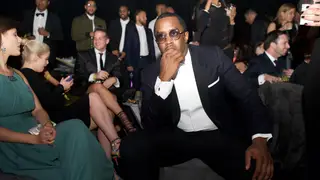 How would you feel if your man's ex was an international icon?
Music mogul Diddy joined 105.1 FM's The Breakfast Club on Friday and told the radio show that his longtime girlfriend, Cassie reacted less-than-positively when he told her about his reunion with ex-girflriend, Jennifer Lopez at a 2015 American Music Awards after party.
"My woman at the end of the day, you know, she ain't have a problem with it," Diddy said. He then admited, "She had some questions," he said with a laugh. "She had some questions."
Diddy said that he explained to Cassie that she had nothing to worry about, since J. Lo's new man would be at the event as well. "But nah, nah, you know, Capser [Smart] was there. Me and Jennifer...people gonna be friends, man," he said, Adding, "People gonna grow, and you know, any of my exes, they smile, and they're happy to see me, you know what I'm saying? And that's all that was about. And, you know, I answered the question."
To make matters a little more awkward, Cassie wound up working with Casper on the new film The Perfect Match. Wonder if they had a lot to talk about during those filming breaks?
As Diddy said, he and Lopez have been cool since the two ended their relationship in 2001, and J. Lo finally admitted that Diddy's infidelity was the cause. Though she never actually caught him creepin', she did say he would "leave for two hours and then be gone the whole night."
Diddy and Cassie, meanwhile, have been dating on and off since 2007. Their most recent "breakup" was earlier this year, though they seem to have worked things out since the rap mogul was on Cassie's arm at the Perfect Match premiere last month.
Catch up on the recent opening of Diddy's Harlem charter school with BET Breaks: