Fashawn Speaks on Charleston Shooting: 'There's No Rationale in That at All'
He also agrees with President Obama in the need for better gun control.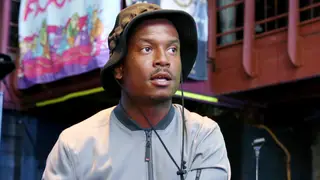 Since information has been flooding about the Charleston church shooting, hip hop has united to show its support in this latest hate crime and act of terrorism. Dylann Roof, a 21-year-old white teenager, was arrested earlier today in Shelby, North Carolina, after killing nine people at a historic Black church in Charleston, South Carolina.
President Barack Obama made a statement about the shooting late Wednesday night from the White House, saying, "I've had to make statements like this too many times." He later added, "At some point we as a country will have to reckon with the fact that this type of mass violence does not happen in other advanced countries."
Among the rappers and producers who decided to speak out on this outrage is Fashawn. The Fresno, Cali., MC first heard of the news when he stopped by the BET offices earlier today, and felt disappointed about hearing another incident involving gun violence.
"I feel like violence doesn't solve anything. Period," he tells BET.com "Whoever the kid was behind the gun, he probably had sick things he was dealing with in his own life for him to be provoked and go inside a church and kill nine people. That's just tragic. That's not logical to me. There's no rationale in that at all."

Fash further explained his obligation as an artist to speak on tragic situations, but believes it all boils down to one's integrity and whether or not fans want to hear it. But, overall, the "Out the Trunk" rapper sides with Obama's comments and feels like a call to action for better gun control needs to be made.  
"I totally agree with Obama, we definitely need to put the emphasis on these gun laws and examine them for a little bit," he says.  "And figure them out. So we can have justice and peace in our streets."
According to several sources, Roof reportedly announced that he wanted "to shoot Black people" when he entered inside the Emanuel African Methodist Episcopal Church. One survivor recalled pleading with him to stop, but he replied, "You rape our women and you're taking over our country. And you have to go."

BET.com is your #1 source for Black celebrity news, photos, exclusive videos and all the latest in the world of hip hop and R&B music.

(Photo: Waytao Shing/Getty Images for SXSW)