Angela Yee Is 'Way Up' With Her New Nationally-Syndicated Radio Show And Is Not Looking Back
The accomplished broadcaster discusses her new show, leaving 'The Breakfast Club' and reflects on her new professional phase.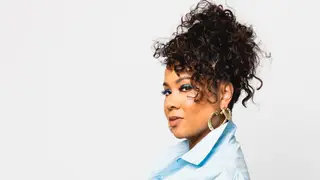 Angela Yee has been one-third of 105.1's The Breakfast Club for 13 years. And now, she's transitioning to bring her seasoned ability to conduct poignant interviews with a knack for knowing what questions to ask at just the right time to her own nationally-syndicated radio show.
While Way Up with Angela Yee has already crossed over into its third week on air, the Brooklyn native is still getting used to things. Currently, without a co-host (but seeking one) her new show takes listeners in all kinds of directions; from inspiring to scandalous and everything in-between.
Segments like "Shine the Light On 'Em" open each show with inspiring tales of people who are trying to better themselves while ones like "Tell Us A Secret" allows callers to relay unseemly tales with the cloak of being anonymous. A lot goes on during the 4-hour, Monday through Friday program, so it requires someone with Yee's adequate experience.
After leaving The Breakfast Club in early December, the accomplished broadcaster says she was able to take a vacation so long she forgot how to do radio (jokingly, of course). She also notes that 2023 is the first year where she's been able to remember what it's like to sleep in after 19 years of doing morning radio. It's all been a big adjustment.
BET.com recently spoke with Angela Yee about her new gig, her beginnings, and lessons she learned during her come-up, leaving The Breakfast Club, the interview that's always escaped her, and so much more.
BET: You come from very humble hip-hop means before you even did radio, working in the background with Wu-Tang Clan before working for Eminem and Paul Rosenburg who helped you get an interview with Sirius. Take me back to getting your foot essentially in the music business before radio and even before that.
Angela Yee: My first jobs were internships. When I was in college, I went to Wesleyan [University], and first I interned at a label called TVT Records. And I actually interned in the legal department, so it was an alumni network thing with Wesleyan where they had different alumni at different places, and you could just intern for one of them. So of course I did that. Then I interned at MTV, then at Wu-Tang management in Staten Island. That was right before my senior year. So when I graduated, my first job was working for Wu-Tang really because of that internship I had, and so I worked there for a while. Then after that, I worked at Virgin Records for D'Angelo – he had his own label called Cheeba Sounds, so I worked there. Then I started doing marketing and worked at a marketing company. And then after that, I worked for Nile Rodgers and his distribution label.
I'm always like, do you know who Nile Rodgers is to everybody? Because I don't think people even understand the amount of history that he has, and the talent that he has. And so after that, I started working for Eminem, and when I started working for Eminem and Paul Rosenberg, it was initially for his clothing line Shady Limited. I helped launch that. And then after that, it was for Shade 45 at Sirius.
BET: Now fast forward to your current endeavors: Way Up With Angela Yee. First off, what were those initial discussions like when you were considering moving to a new format and having your own show?
Angela Yee: Initially, [iHeartMedia] really wanted me to stay on The Breakfast Club and they were discussing giving me a nighttime show, similar to my podcast Lip Service, that would be a little bit more edgy, fun, relationship-oriented, something that I could do myself. But fortunately, and it took a long time – like we had been in discussions for quite some time – in my head, I felt like I would grind it out and do both things and then eventually be able to leave and start my own show permanently.
And what ended up happening was they felt like that 10 a.m. to 2 p.m. time had never been really built up the way that it should have, and with people's habits being so different now, a lot of people are working from home, listening to podcasts more than they're listening live. They just felt like it was a great opportunity to build that up, and so my boss came and had a conversation and said, 'We think this would be a great opportunity for you to develop your own show in that slot and it'll be nationally syndicated.'
BET: What are some of the differences you've already noticed so far between hosting this new program and your former home?
Angela Yee: Well, because it's so new to me now, I think there was such a level of comfortability on The Breakfast Club, where it was just like clockwork. I knew what I was doing when I was doing it. I had two people in there to rely on so if I was in the bathroom or went outside to pay for my parking, it was okay if I didn't make it back. Right now it's like, god forbid I stepped out to get some tea, they're like, 'Angela we need you back right here right now!' So everything is more on me. I enjoy it, it's a lot more pressure, but that doesn't bother me. I get to sleep a little bit more, so that's good.
As far as the format, it's very fast-paced. So the way that I'm doing my show is it's a lot more segments. So it is a lot of work for me constantly getting ready for what's next. With the Under the Radar stories, I have three different Yee Teas – that's like my Rumor Report. It's a lot more interactive listeners. So we're soliciting calls all throughout the show and that's a little different because at times that has never been like that.
BET: Speaking of segments, my favorite one is Tell Us A Secret because of its scandalous nature. What was the process of coming up with the ideas for different segments and how they may stem from ones like Rumor Report and Ask Yee?
Angela Yee: You know what I really sat down and came up with all of them. First of all, I knew I was getting this show way before I announced it, and so every time I would have an idea – I have a whole lot more segments that I didn't use – but every time I had an idea, I would put it in my phone and be like, Oh, that's gonna be a good idea or I can figure out how this can work. I knew from early on that I really wanted to start my show off very positively – and that's how I came up with Shine A Light.
And then Tell Us A Secret – I got that from Cosmopolitan magazine. I don't know if you ever read Cosmo, but it will always be like these confessions from different people that would anonymously write in, like, 'Oh my god, I was on vacation and my boyfriend's brother walked in.' So I just thought it was funny because I know people have really crazy stories that they would tell, but it's easier to tell the story when you're anonymous. So I just thought it would be for people to do like a confessional.
BET: You had Jasmine Brand, who is a good friend of yours, as a guest co-host for the first week. Is that something that's going to continue with other people as the show goes on or on occasion?
Angela Yee: Yeah we are looking for a co-host. You know, Jasmine is a friend of mine so it was just helpful for me as I'm trying to get the show together to see what it would be like to have a co-host. Sometimes it's hard to talk as much as we're talking on the show to ourselves – not that you can't do it, but it does make it easier when you have somebody that can chime in and give their side of things too.
BET: What was it like leaving The Breakfast Club studios for the last time after 13 years?
Angela Yee: I was happy, I couldn't wait. It was taking forever. And as I said, it's just because I knew for so long and the ability to also just take a break. I've been on that show and I've never really had the amount of time off that I had in between that show ending and I felt like I didn't even know how to do radio anymore. When I came back, I was like, this is the longest I've ever not been on the air. It was amazing though because I was supposed to leave before that but they kept pushing it back and pushing it back. So I was just relieved to be like, I can sleep in, because every time I thought it was gonna be over, they're like, 'Oh, we're gonna push the date back a week,' and I was like, This is killing me! So it was just a great feeling to leave, and then I went on vacation after that and it was just amazing.
BET: I know one interview that's always escaped you is with Lauryn Hill. You went to high school with her, and knew her then. I think if there was anyone perfectly suited to knock a conversation with her out of the park it would be you. How's that coming along?
Angela Yee: Yeah, I can't see anybody else doing that interview. I just feel like it's not even just that I went to school with her either, it's that we really were friends. And so I have the utmost respect for her, but I felt like it would be such a fun and interesting conversation about things that we can reflect on that other people don't know at all. It might be that even for her. It could be just really nostalgic. It's not often that you have an opportunity like that when you think of somebody you went to high school with.
Santigold and I went to college together and I just did her podcast and that was fun. It's like friends talking and it's not necessarily an interview. I've always just really been cheering her on and excited for everything that she's accomplished and for the icon that she is. I remember when she was rapping and we were in high school and she was passing me notes with raps written on them and everything. So I just think it would be really fun and exciting and it would be iconic for me to be able to do that. I would be really careful about how the interview [would] happen because I really do care. So I'm just hoping it can happen.