Bomani Jones On 'Game Theory' And How Humor Unlocks Some Of The Most Unsettling Truths
The famed sports journalist discusses season 2 of his HBO show, which premieres on Jan. 20, and why it's needed now more than ever.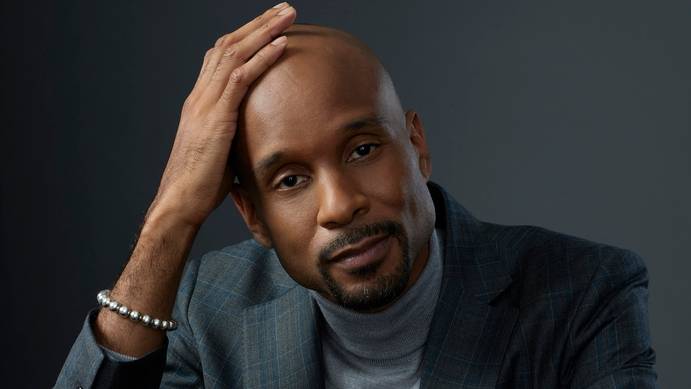 Jones, 42, has used Game Theory to bring to the forefront some of the absurdity that college and professional sports – and their fans – offer outside of the playing field. Perhaps a preeminent example of this was a field segment the program produced surrounding the lack of concern Cleveland Browns fans had about newly-acquired quarterback Deshaun Watson, who was accused by a total of 30 women of improper sexual conduct during massage therapy sessions.
During the segment, field reporters Jason Selvig and Davram Steifler traveled to Northeast Ohio to ask fans at a tailgate about their thoughts on the allegations – most of which were settled out of court but involved financial payments from Watson to avoid trial. Their broadcasted responses largely absolved the 27-year-old of his alleged actions with denial, conspiracies to simply seek a money grab, and more.
The former co-host of ESPN's Highly Questionable and frequent panelist on Around The Horn, as well as his own previous show High Noon, says his approach has less to do with being the morality seeker of the sports world, but rather, offers an extensive perspective of how we got to this point.
"The trick for the deep dive stuff for us is really about, you want something that is worthy of exploration and something that's got meat to it," Jones told BET.com during a recent interview. "But at the same time, you don't want to get out here just wagging your finger all the time about this is what's wrong with sports, right? People get tired of that fast, I get tired of that fast. So we want to find things that are worth going into a little bit deeper but also keeping in mind that there's a reason why we're all here – generally, it's because we enjoy sports. We just want to laugh at them every now and then."
In season 2, Jones reveals the premiere episode, airing tonight (January 20) on HBO, will discuss player mobility in the NBA and if it's actually anything new. When asked if he believed it was initiated by LeBron James' career movement between numerous teams, he replied with precedent to the contrary, citing Shaquille O'Neal's move from Orlando to Los Angeles in 1996 and Kareem Abdul-Jabbar forcing a trade from the Milwaukee Bucks to the Lakers in 1975.
"What did he do that was so revolutionary? He played out his contract and then signed with somebody else, per the terms of the collective bargaining agreement," Jones says. "So we want to get into if the players have been empowered, where's the power? What exactly are we talking about here because this is something that we've been saying for 13 years I feel like? We've just been saying, I don't know how much we've actually been thinking about it."
Jones notes that HBO was the perfect landing spot for his newest venture because not only did they initially reach out to him, but the premium streaming platform would've been his first choice for a collaboration anyway.
"If you are a creative who wishes to make excellent work, who does it better than HBO? When I tell people I've got a show on HBO, that goes over differently," he explains. "If this had been my idea, there's no network that you would assume would give you better support to make a project like this work than HBO would and they have. The support has just been great."
That support is backing Jones up behind all of his poignant takes, including his position as one of the staunchest critics of now-former Jackson State University head football coach Deion Sanders and his decision to leave the HBCU to take the same position at the University of Colorado, an NCAA Division I Football Bowl Subdivision program with more resources and the ability to offer a higher salary. While some saw the move as an opportunity for Sanders to further the trajectory of his coaching career, Jones argued that the NFL Hall of Famer didn't follow through with the guarantees he made after choosing to coach the Tigers.
"I'm not pretending as though he was working in some sort of perfect environment when he was there. But in the end, I feel like the way that he talked about the school really contributed to a lot of the anti-Blackness that surrounds the ways that people look at Black institutions," Jones argues, citing Sanders' comments about the low crime rate in Boulder, Colorado, which he classifies as a slight at Mississippi's capital city. "So I wind up on television with white people asking me questions like, 'So what's the problem with him going to get a better job?' and being accused of being a crab in a barrel. I wasn't trying to hold the man down to anything, but he did offer a promise of doing something at an HBCU that could have an effect to help all HBCUs. But it didn't help all HBCUs. It helped maybe one HBCU, and that was Jackson State."
Jones also adds that the athletic programs at historically Black colleges and universities' main purpose shouldn't be a pipeline to professional sports. Rather, it's to put them in a position to be successful in any field of their choosing.
"The thing about it is I don't care if top recruits ever go to HBCUs, to be honest. Like I think the football programs exist and the football programs, no matter who the players are, that they should serve the players that they have," he says. "The goal should be, no matter who your football players are, getting their graduation rate up and making sure that these young men are prepared for the life that's going to be there for them after they get out of school. To me, the mistake is in thinking that getting top-notch football or basketball recruits – what is that actually going to do for the school? It can maybe help some guys make some money, but the money that we're talking about that schools need is so big that that's going to be a drop in a bucket even if you go about it in that way."
In regards to the heavy increase and predatory nature sports betting is having over the NFL, NBA and other leagues in 2023, Jones says it is certainly changing the way many fans view professional sports, and not for the good in most ways.
"I think the best way to put it is that we're making the entire experience transactional," he explains. "And one of the things that people talk about, that are actual sports fans when they get into it, is the things they don't like are actually the transactional things. Like we like transactions, but we don't like feeling like they're transactional. I do think that putting such an emphasis on gaming is reducing this experience to a transaction when that's not really the part that people enjoy. Like, you didn't get into it by gambling and then find the fun of the sport. No, it's probably going to go in the other direction.
"And yeah, there are a lot of questions to be asked just about, I mean, the widespread availability of gambling, like this is dangerous, right? I don't think there's any way you can get around it."
Outside of the increased influence of cryptocurrency and legal betting on professional sports, the manner in which they are covered is also at a turning point. The access to become a personality, journalist, or likewise may be easier now more than ever with social media and the availability of infinite information via the internet – but it doesn't come without its issues.
"I still think there's probably more talent in this industry than there has ever been before. The problem is, with the newspaper industry cratering, there isn't as much money to go around there," Jones says. "So there isn't the money that there used to be for deep enterprise stuff and investigative reporting, especially now that it's on the internet, people can quantify how long people spend reading on everything, and they look up and they say, 'Hey, that stuff's not worth the money that it takes in order to make it work in order to get it done.'
"The definition of media, I think, has gotten broader – maybe to a point where we need a little bit more gatekeeping, right? I think that there's something to that but if you think about, say, 15 years ago, there's probably not a space in sports media on television for a show like Game Theory – to have more of an expansive look at what we're doing in sports."
In regards to his own platform, Jones says the comedic manner in which he engages his fans through Game Theory is paramount to whether they then scratch the surface deeper to discover the jewels underneath – some rougher than others.
"My primary goal is that [viewers] enjoy the 30 minutes that they spend with us," he notes. "I did an interview about 20 years ago with Aaron McGruder and I was talking to him about this idea that he'd have these bold takes, and he's like, 'Hey, I'm just a cartoonist.' And I'm like I don't really understand how you're reconciling these two things and what he said was, 'No, I'm just a cartoonist. It's my number one job is to be funny. If I'm not funny, none of this other stuff matters.' People have to enjoy what you're doing before they can get to the second level, which is to make you think and all of that stuff.
"I want people to come away from this and be like, 'Man, I like that show,"' Jones adds. "I don't want to get too deep into thinking that I'm going to change the world via this show. I'm probably not going to do that. But what I also might be able to do is inspire somebody who wants to be in this industry – so a young person can use this and look at it and be like, 'Hey, I'd like to do something that has these ambitions.' That would be more important to me, honestly, than the idea that I'm changing somebody's mind about something via the content."