Local Ohio Artist Honors Nipsey Hussle By Creating A Wax Figure Of The Rapper
Creative!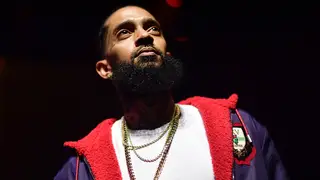 A talented artist named Mr. Officials is honoring Nipsey Hussle in a significant way.
The artist created the first wax figure of the late rapper and took to Instagram to show the process.
"Watch me make the first ever life-size Nipsey Hussle wax figure!," Officials captioned.
"This statue actually took about 9 months to create. After 9 long months, the birthing of a legend is now revealed! Tag and share with a Nip fan. Let me know what you think."
You can visit the Ohio-based creator's website to learn about his services, which include embroidery, screen printing, heat transfer vinyl, and much more.
"Create your own custom apparel by uploading your own artwork, using our text tool, and our some of our logos with just a few simple clicks," the website shared.
"Your request will be submitted for review and we'll contact you ASAP to process the final details for your order."
Watch the artist create the wax of the Nipsey below.