Megan Thee Stallion Shuts Down Trey Songz Dating Rumors
"Why y'all want me to be a 'hoe' so bad?"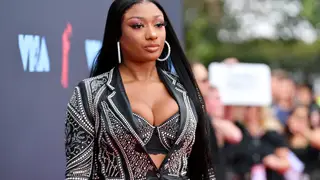 Fans were trying to see if there's something going on between Megan Thee Stallion and Trey Songz after clips emerged of the two hanging out together last night (Nov. 21). But the two are just friends, according to the Hot Girl herself.
Trey was joined by a close circle of friends for an early birthday bash at the Marquee in New York to celebrate his upcoming birthday next Thursday on November 28. Megan was also on hand to celebrate the occasion. In one clip shared online, Megan gave a toast to Trey turning 35 years old this year, saying, "It's Trey m**herf**king' Songz's birthday! He be cappin' like he don't wanna turn up but we really gonna turn him up so I need everybody to have a good a** m**herf**kin' time and we gon' drive the boat" as other people present at the party cheered. 

The Shade Room re-posted more footage of some of the shenanigans that went down at Trigga's celebration. Meg and Trey seemed to remain close to each other throughout the night, which further fueled rumors that the two are low-key romantically involved with one another. 

Although Meg and Trey have been pictured hanging out often together, as seen most recently this past Halloween, they've both maintained they're just close friends. 

Trigga did try to shoot his shot at Meg earlier this year, who respectfully blocked his shot, but the two became close friends, according to the Hot Girl herself.

However, as the rumors begin to pick up steam across social media once the footage began circulating, Megan took to Twitter to put a stop to the speculation before things could get blown out of proportion.

"Why y'all want me to be a 'hoe' so bad?" Megan posted moments after a fan asked her if she had hooked up with the R&B heartthrob.

"Lol I've only dated ONE person y'all know about. All that other s**t is RUMORS [and] LIES," she responded, capping that she "ain't addressing s**t else" that's going around online. 

She also retweeted a post where one fan wrote, "let's play stop trying to add men to @theestallion body count challenge," which we can wholly agree with.