Prayers Up: Colts' Edwin Jackson Tragically Killed By A Drunk Driver
Manuel Orrego-Savala hit the 26-year-old linebacker and was in the country illegally after being deported twice.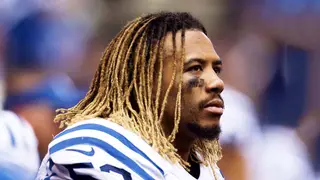 Before the Philadelphia Eagles' rousing upset of the New England Patriots last night, Super Bowl Sunday was mired by tragedy off the field.
That's because Indianapolis Colts linebacker Edwin Jackson was tragically killed by a drunk driver early Sunday morning. Jackson was just 26.
According to IndyStar.com, Jackson and his Uber driver, Jeffrey Monroe, were standing near a stopped vehicle when Manuel Orrego-Savala's Ford F-150 pickup truck struck them both after driving onto the emergency shoulder of Interstate 70 in Indianapolis shortly before 4 a.m. Sunday. Police said, as reported by the Daily Mail, that Orrego-Savala had a blood-alcohol level of at least .15, which is about twice the legal limit. Both Jackson and Monroe, 54, were killed as a result.
Police also told IndyStar.com Monday that Orrego-Savala, 37, is a Guatemalan citizen who has been deported twice in the past and tried to give cops a fake name after unsuccessfully attempting to flee the scene on foot.
"Orrego-Savala is in the United States illegally and has previously been deported on two occasions, in 2007 and again in 2009," Sgt. John Perrine said in a statement, as reported by IndyStar.com. "State police investigators are working with U.S. Federal Immigration Officials and they have placed a hold on Orrego-Savala."
Meanwhile, the Colts organization is heartbroken over Jackson's death.
Prayers up to Jackson, his family, teammates and the Colts organization over this tragic loss.
BET Sports News — Get the latest news and information about African-Americans in sports, including weekly recaps, celebrity news and photos of your favorite Black athletes.