Report: Masika Kalysha Is About To Make A Huge Move On 'Love & Hip Hop'
Apparently, big changes are coming.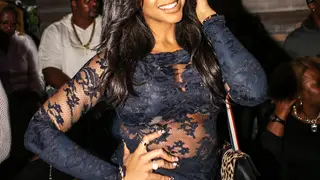 If new reports are to be believed, Love & Hip Hop: Hollywood star Masika Kalysha is making a major decision when it comes to her role in the franchise, ensuring that the next season of the spin-off will bemuch different than the last.
According to theJasmineBRAND.com, Masika reportedly will not be returning for the next season of Love & Hip Hop: Hollywood and this came "per her own request."
The new season has already begun filming and based on the site's report, the reality starlet now believes she has outgrown the show and is allegedly "ecstatic about getting out of her contract."
It is reported that unless a cast member is fired from the show, contractually, it is nearly impossible for he/she to leave prior to their contract ending officially.
Masika, who has been a fixture on Love & Hip Hop: Hollywood for a total of three seasons, has only been featured as a main cast member for one.