EXCLUSIVE: Shaunie And Keion Henderson Reveal Why They Married In Anguilla—The Same Island They Plan To Retire!
The couple chatted with BET Lifestyle before the premiere of their new VH1 series, "Shaunie & Keion's Destination 'I Do.'"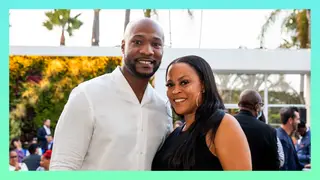 Your invitation to the Hendersons' destination wedding has finally arrived! 
In May 2022, Shaunie and Keion Henderson tied the knot on the beautiful island of Anguilla. Now, the lovebirds are inviting fans on their journey to the altar with a three-part wedding special leading up to their special day.
"We got married in Anguilla, and of course, everybody wasn't able to be there," Shaunie tells BET Lifestyle about the inspiration to film Shaunie & Keion's Destination 'I Do'. "It was a way for us to share our journey with so many people that weren't able to physically be there. The fact that we were able to do it genuinely without a storyline or a storyboard was amazing."
Although Pastor Keion was initially hesitant about exchanging vows while the production crew filmed, the couple eventually agreed that capturing the moment was the ultimate way to share their union with those they loved—especially their church congregation of over 15,000 members.
"I had so many people that wanted to come—the entire church felt like they should be invited," Keion explains, adding his vision was to marry the love of his life in front of their close family members and friends to avoid disappointing a long list of potential guests. "We picked a place that matches our rhythm and just fits the heartbeat of our soul. The people in Anguilla are amazing! We spent a few hours there scoping the place out and looked at each other and said 'let's retire here.'"
Shaunie adds, "It's just a community of people that love that island so much that they love people coming there and experiencing it. You just become this family. From the airport to the resort, your family—and they make you feel that way. It's home away from home."
ICYMI: The Senior Pastor of The Lighthouse Church & Ministries and the Executive Producer of Basketball Wives were wed on May 28 at the Aurora Anguilla Resort and Golf Club in front of 300 guests.
The couple loved their Anguilla experience so much that they've even donated a park to the Caribbean island. The lovebirds hope that the ribbon cutting on the park will be the reason they need to return to the island, which they describe as a wonderful opportunity to support Black businesses. "Everybody has such a good time that we're just waiting for an excuse to get back there," Shaunie tells us.
While the wedding was certainly a heartwarming milestone in their lives, the newlyweds both agree that watching their children have a great time together was the biggest highlight of their weekend in paradise.
"Our kids, nieces, and nephews had more fun than any person over 30," Shaunie shares with a chuckle as Keion agrees. "Everybody says, if you guys redo this, I want to hang out with the kids. We thought we had a great time until we saw videos and pictures of them having fun, and we're like, 'we didn't get to do that!'"
When we asked what viewers can expect from the three-part wedding special on VH1, Shaunie happily shares: "I think viewers will get to meet Keion on a different level and see me in a new, evolved space in life from Basketball Wives. It's almost like an introduction to us as a couple, as a unit."
FYI: "Shaunie & Keion's Destination 'I Do'" premieres on VH1 on November 28 at 9/8c.
Editor's Note: This story/interview has been edited and condensed for clarity.