Black Google Engineer Says Silicon Valley Tech Giants Only Hire The 'Whitest Black Candidates'
Mobile-app developer Bria Sullivan opened up about hiring practices and how she intends to level the playing field.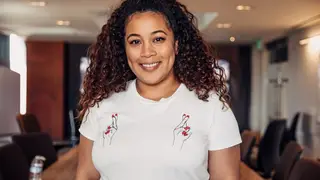 Bria Sullivan first entered the tech world when there was just one Droid and one iPhone. She knew tech was on the brink of taking over the world and wanted to ensure a secure future for herself professionally. 
Now, as one of the small percentage of Black women working in tech and even fewer working at Google, Sullivan is speaking out about her experience at the company she currently works for and other tech giants she's worked for in the past.
"This is my problem. I feel like they hire the whitest black candidate," the Chino Hills, California, native told Moguldum in a recent podcast. "They hire someone who's exactly like them, but Black."
"It feels very obvious," Sullivan said, adding how the Black community falls for it a lot of the times. "We cheer on… yes, it's really great that that person is there."
While small achievements are positive, Sullivan wants to see bigger changes at the core of tech culture.
"I feel like, actually put someone in a position where they are running an organization," she suggested, providing the example, "Like all of Google maps is run by a Black person or something like that."
"I mean, you have a Black person that heads diversity," she continued. "Okay. Thanks. I have someone who can empathize with me, but at the end of the day they work for you." 
Sullivan's outspokenness is due to support from her current team and manager, she says. 
"I can say any radical thing I want or check someone and I"m not reprimanded for it or I haven't really had to do that, at least on my immediate team," which Sullivan proudly described as "one of the most diverse teams at Google."
"We have two Black interns, on top of that we have three Black engineers on our team, one of which, a Black woman, is one of the leads," she revealed. "All of that happened just because my manager did that on purpose. It doesn't happen by accident."
Sullivan also points out that just as Silicon Valley has to change, so do Black and Brown families that focus on sports and entertainment for their children's future instead of industries like tech. 
"I think that we need to start glorifying this lifestyle," she said of the tech industry. "Because it is a very stable lifestyle."
She points out that not everyone is an entrepreneur or a professional basketball player or even a successful rapper.  
"But I think everyone has the capacity to learn how to code. We all have computers. Your phone is a computer," she said. "I just feel like it's a no-brainer to at least have the knowledge because even the knowledge in non-tech field, everything's going to be tech-enabled at some point." 
Sullivan is taking the lead on her own accord by teaching a course focused on helping non-technical startup founders hire technical talent better. 
She knew that outside of being candid about her experience in Silicon Valley, and as a Black women in tech, she would have to pay it forward with the knowledge and experience she brings. 
"I think a lot of the decisions made in Silicon Valley are cop-outs," Sullivan said. "I feel like they're patches to a real solution." 
In mid-August, a memo called "The Weight of Silence," obtained by Motherboard, was released by a former Google employee describing "the burden of being Black" at Google. 
"Over the last five years, I've heard co-workers spew hateful words about immigrants, boast unabashedly about gentrifying neighborhoods, mockingly imitate people who speak different languages, reject candidates of color without evidence of 'fit' and so much more," the author wrote.
"...I eventually grew more comfortable using challenging moments to educate my co-workers, I never stopped feeling the burden of being black at Google," the unnamed author added. "And the more insensitive comments weighed on me, the less safe I felt here -- and the less capable I was of being my best self at work, or myself at all."