'Queen Sugar' Alum Omar J. Dorsey And 'The Gilded Age' Director Crystle Roberson Celebrate Upcoming Wedding
See beautiful photos of the couple who got engaged in October 2022.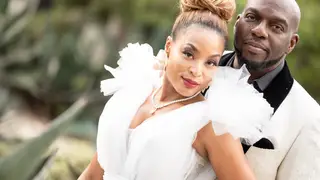 The wedding between Omar J. Dorsey and his girlfriend Crystle Roberson is nearing.
The couple recently shared details of their upcoming nuptials with BET.com, and how their love began.
The Queen Sugar alum and The Gilded Age director first entered each other's orbit during a Canadian film festival. Flames quickly sparked after learning they shared Southern roots in Georgia. Soon after, they discovered they shared mutual friends, a connection that pulled them closer together.
"I don't know how we had never met each other before; we knew a lot of the same people. But everything happens in divine time," Roberson said in the statement.
The bride-to-be also recalled her beau visiting a television set while she was directing. The couple's love for the entertainment industry is another layer to their bond.
"He's an actor, I'm a director, we both love our craft and encourage each other," Roberson continued.
Their love hit a peak in October 2022 when Dorsey got on bended knee. He celebrated the moment with his social media community on Instagram. "I'm so Happy to say she said YES when I just asked her to marry me! Like Jack said in "As Good As it Gets" You make me want to be a better man! You brought the "Hollywood" out of me Crystle. I love you!," he wrote in the caption. The post also featured a selfie of the duo sitting in the backseat of a vehicle while Roberson flashes her new rock.
She shared a sweet video montage of their relationship to highlight their engagement. "I said Yes to a LEGEND and a LEGENDARY LOVE! Cheers to us. I love you!."
Their big day down the aisle will kick off in front of family and friends on New Year's Eve in an exclusive beachfront resort in Santa Monica, CA.