The University Of Miami Caught Alex Rodriguez And J.Lo On Its Kiss Cam
Here's how it was redemption for the former Major League Baseball slugger.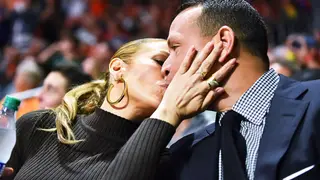 Alex Rodriguez finally got that home run hit he was looking for ... on the Kiss Cam.
When his alma mater, the University of Miami, caught A-Rod and his boo, Jennifer Lopez, on its Kiss Cam during the Duke-Miami basketball game yesterday, the former Major League Baseball slugger got a sweet smooch from J.Lo.
Aww ... gotta love these two together.
And the kiss signaled a bit of redemption for Rodriguez, considering that he appeared to bend down for a kiss only to be ignored by Lopez, who continued to dance when the two were caught on the kiss cam during a November football game between his beloved Miami and Virginia Tech.
Watch that moment from a couple of months back below.
We like how A-Rod tried to play off that moment by sipping on his drink, but he got that redemption Kiss Cam smooch, proving that persistence pays off.
That kiss was the only win A-Rod could claim on Monday as Miami lost to Duke.
BET Sports News — Get the latest news and information about African-Americans in sports, including weekly recaps, celebrity news and photos of your favorite Black athletes.