Tiffany Haddish and Reggie Watts Smile For Selfie Together Captioned 'Hey We're Dating!'
The post of the comedians has led to speculations.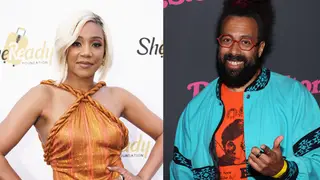 All jokes aside, is this comedy duo ready to take it to the next level?
Comedians Tiffany Haddish and Reggie Watts took to Instagram this past Monday, June 5th, to share a selfie which was captioned as their first date.
"Hey we're dating!!! And we made money on our first date!!!!!💛" the caption reads on Watt's post.
Given that they are both comedians and the caption was ambiguous, the "Girl's Trip" star and Late Late Show bandleader caused some fans to speculate if this is a serious relationship or a playful date.
One person asked if it was a joke. While another stated, "She looks really genuinely happy and like she feels safe to be real."
Haddish and Watts are flashing smiles at what appears to be at a theater after performing at The Comedy Store in Los Angeles. Watts posted the lineup from the Monday night show on his IG account.
If this a true traditional date and not just a nod to the fact that they appeared together at a comedy venue, this comes after Haddish's highly-publicized relationship with rapper Common that ended in November 2021. The actress and the rapper dated for over a year.
Haddish reposted the photo to her Instagram story, excitedly captioning, "1st date and I am loving it so much!"
She later teased in the comments that she is ready for a second date.