Why 'Bel-Air' Stylishly Ditching Jokes for Drama Is a Divisive Game Changer
Fan opinions are divided, but our set visit proves that Peacock's new show has swagger.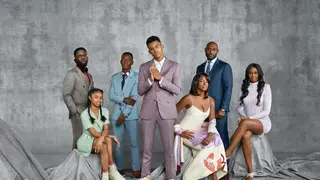 Reboots of popular television series have become all the rage for better or worse. From Raven's Home to The Proud Family, the return of these shows bring established franchises to a new audience while leveraging built-in fanbases. The latest service to hit the streams, Peacock, has already launched their own reboots, including Saved By The Bell and Punky Brewster. Now, in an attempt to dramatize the comedic reboot formula, Peacock will add some creative flair to Will Smith's '90s-starring vehicle, The Fresh Prince of Bel-Air.

But this ain't your momma's favorite multi-cam sitcom. No, this time,  Bel-Air is a daring dramatization inspired by the viral 2019 short film from director, cinematographer, and writer Morgan Cooper.
"It's interesting as Westbrook, [Will Smith's] company reached out before we even went viral," said Cooper during an on-set press visit to the new Banks mansion in Altadena, California. "It was under 10,000 views because you know his media team always got their ears to everything happening on the internet."
Eventually, he sat down for a FaceTime chat with Smith, while the box office busting actor was shooting Bad Boys For Life, and flew to the film's set in Miami to talk about development. Around August 2020, the announcement was made public, letting new and longtime fans know that the shortened-titled series would be a one-hour drama, which immediately received a two season order from Peacock.
As young Black creatives continue to make strides in Hollywood, many are bucking the "traditional ways" of getting their art out there. Issa Rae's rise began with The Misadventures of Awkward Black Girl. An idea that was way before Insecure, her recent HBO hit series recently came to a close after its fifth season. Meanwhile, the Janicza Bravo-directed black-comedy Zola released last year to much acclaim, and that was inspired by a series of viral 2015 tweets. According to Cooper, times are changing as creatives form their own paths due to the many ways digital content can be absorbed.
"I remember the old days of there just being only one place to watch things that entertain you," explained Cooper. "That's done. You really can take matters into your own hands as artists. If that idea comes from a studio, great. If it comes from a young dude in Kansas City, that's going to happen too. So hopefully, this could be something that paves the way for other brilliant independent artists to shoot their shot and do their thing because you can't wait for permission."
Helping to bring Cooper's new vision of a teenager escaping troubles in West Philadelphia for a posh lifestyle in Bel-Air are first-time showrunners TJ Brady and Rasheed Newson. The writing duo's collaborations have included television series such as Army Wives, Shooter and Lie to Me. Outside of the source material, Brady and Newsome were inspired by series including Roc and Friday Night Lights. Both parties wanted to make sure that Bel-Air wasn't simply catering to fans of the throwback version, but wanted something that could captivate newer audiences who probably weren't even alive during the series' original run.
"That's why this show has to be able to stand on its own," said Newson. It couldn't just be referential. It couldn't be a show that you only enjoyed if you'd seen the original. It's gotta hook you now."
Brady honed in on Newson's point even more by talking about the series' direction and earning new viewers.
"Look at the people we casted who are amazing — from the way they're gonna be dressed, the music they listen to, the things they say, [and the] things they get into is all designed around that idea," said Newson.
Which makes sense when you read how the show creators cast newcomer Jabari Banks as Will Smith. In his first onscreen role, one of the ideas with Bel-Air that has Banks most excited is how the dramatized version allows for tackling various Black issues without the "afterschool special" feeling. Bel-Air isn't simply a fish out of water story about a high schooler escaping a bully only to live with his wealthy aunt and uncle. This time, Will is a college basketball prospect whose life is "turned upside down" when a series of events out of his control result in an unfolding issue with a neighborhood drug dealer. Matter of fact, Bel-Air spends a nice portion of the pilot episode exploring Will's roots in Philly and even features a clever cameo by former Roc-A-Fella emcee Freeway.
Hip hop and music have always been incorporated into the Fresh Prince's story, but on Bel-Air, it is more than just the simple "artist-turned-actor" motif used as narrative. Veteran audiences will remember guests like Queen Latifah and Bel Biv Devoe, who represented the culture both as a love interest to Will and as special musical guests. The series even attempted to springboard Tatyana Ali's music career at its height. Let's not forget how The Fresh Prince of Bel-Air gave Tom Jones a hefty revival for a new generation. For crate-digging hip hop heads, there's that one time where Will rapped parts of the periodic table to George Clinton's "Knee Deep."
Outside of little easter egg-like homages to the original, Bel-Air takes its own slick approach to the musical score. It wouldn't be right if J.Cole's "No Role Models" didn't kick off the opening moments of the show with "First things, first, R.I.P. Uncle Phil" bar. There's even a locker room scene where Smith and his friends rap to a Meek Mill song in celebration during the opening Philly segment.
"Being a drama, we get to really dive deep into issues like police brutality and the idea of what Blackness really is," explained Banks. "We got to see those topics touched on a little bit in the original series, but now we really get to dive deep into these characters."
Removing the Fresh Prince title also allows the drama to re-imagine other members of the original's principal cast in more of an ensemble direction.
Aunt Vivian (Cassandra Freeman) and Uncle Phil (Adrian Holmes)'s dynamics will be explored with more depth than the original. Hillary (Coco Jones) goes from ditzy college dropout slash socialite to aspiring social media food influencer. Ashley (Akira Akbar) gets more time as a young teen concerned with topical issues like climate change. Even Jazz and Will's friendship origins get a bit complex as well.
However, Carlton and Geoffrey get the widest change.
A complete opposite of Alfonso Ribeiro's portrayal of the punchline receiver with a love of Tom Jones, actor Olly Sholotan's Carlton feels more like a Black version of Scott Disick. Once the series gets to Bel-Air High School, the stickier traits from the '90s original — Carlton being preppy and politically conservative — are turned on its ear, forcing a much darker-tinged look at Will's cousin.
"I think it's easy to look at it on the surface as a rich kid doing rich kid things because it's fun," explained Sholotan. "But as you delve deeper into it, you see the struggle, the pressure and the unattainable goals he sets for himself."
Viewers who saw the initial Bel-Air short noticed the absence of Geoffrey, originally played by British actor Joseph Marcell. Cooper said the decision was intentional, as a wealthy Black family employing a Black servant didn't sit well with him. More so, he found inspiration for this iteration of Geoffrey in a popular British drama.
"I was watching 'Top Boy,'" said Cooper. "I wanted to introduce these textures and flavors. I started listening to music that was happening over there in the UK and it found its way into Geoffrey and kind of manifested into this character and this backstory of him meeting Phil in a pool hall years ago."
With a radical departure style wise from the source material, the pressure is on for Bel-Air to succeed. Cast alongside the crew are well aware of the monumental undertaking in reimagining such an iconic series.
"I hope America loves us," said Newson. "Because I know what the legacy is. I don't wanna be a part of the team that messes this up. Forget America, I have to face my family. I gotta go to reunions and hear from cousins, uncles and aunts that I ruined 'The Fresh Prince.' I don't want that."
---
Bel-Air is set to premiere on Super Bowl Sunday, Feb. 13, with the first three episodes on Peacock.

Ural Garrett is a Los Angeles-based entertainment and tech writer documenting the intersections of pop and digital culture. Follow him at @UralG on Twitter.