5 Things We Hope To See In 'The Proud Family' Reboot
Is Penny Proud going to an HBCU?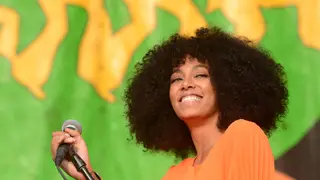 With the Proud Family revival announcing its grand reveal, the Louder and Prouder Disney plus series is leaving fans some questions unanswered and an anticipation of things they need to know and hope to see. 
Executive produced by Bruce W. Smith and Ralph Farquhar, the early 2000s animated series followed 14-year-old Penny Proud tackling issues as she stepped into her journey as a young Black teen. 
"The genius of the original Proud Family series was that, under the guise of a family comedy, it provided a brilliant social commentary on our life and times," said Gary Marsh, president and chief creative officer at Disney Channels Worldwide. "With this new series, Bruce and Ralph will once again challenge everyone to think differently about the world we share.
With the original cast confirmed and a premiere date still up in the air, here are BET's five things that we hope to see: 
Is Penny attending an HBCU?

Since The Proud Family is coming back Louder and Prouder, it's the perfect opportunity to bring fans a coming-of-age story for Penny Proud, giving us the young Black girl experience. Penny heading off to college is highly anticipated for the reboot, and nothing would be better than her attending an HBCU. And for the culture, it'd be even better if we saw her join a sorority.

Will Solange re-record the theme song?

The Proud Family arguably has one of the greatest theme songs to hit Disney Channel. Solange Knowles sang the iconic theme song in 2001 featuring Destiny's Child, and it became a classic. Kids who grew up in the early 2000s still know the song word-for-word so of course, we'd love to see Solange re-record her hit.

Will real artists still make animated appearances?

Guest stars were common on The Proud Family. The show has had appearances from Kobe Bryant, Gabrielle Union, Mariah Carey and many more. We hope to continue seeing the animated versions of some of our favorite stars in the upcoming episodes.

Wizard Kelly's Face

The biggest gag of The Proud Family was the unknown face of Wizard Kelly. Throughout the series, the front of his face was never revealed, only showing a view from the neck down. But toward the end of the show's run, a glimpse of Wizard Kelly's face was shown in The Proud Family Movie. Is there any hope fans will see more in the reboot?

Still addresses Real/Heavy topics

In the original series, Proud Family was filled with hidden gems and life lessons in each episode. The show was known for its commentary on topics like friendship, dating, race, culture and politics. Fans are hoping the reboot keeps the same authenticity when it returns.