How To Care For Your Knotless Braids
These expert tips can keep your hair healthy while wearing a protective style.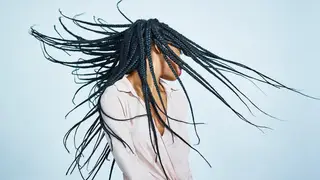 Our hair is beautiful, but every now and then, we need a break from the very roots that remind us of who we are and where we came from. Natural hair beauties rush to their local beauty supply store to get Knotless braids to protect their hair. This was once the case for Chinyere Adogu, owner of Chi's Luxe Braiding Hair.
For Adogu, finding quality hair for her knotless braids was a challenge, yet it was the very thing that ignited the fire for her own business. "I rediscovered my love for knotless braids when I came across a specific type of quality hair. However, I faced many challenges in finding and sourcing this particular hair. The scarcity in the hair market motivated me to fill the gap and provide others with access to quality hair." 
When it comes to any braiding hairstyle, quality hair matters. Chi's Luxe Braiding Hair ensures natural hair Queens have a soft life experience from head to toe. In fact, scalp comfort is one of the many benefits of Adogu's hair products. "Our hair is specifically designed to be gentle on the scalp, minimizing potential irritation," said Adogu.  "Our hair's lightweight and hypoallergenic nature ensures it doesn't weigh heavily on your head."
Although knotless braids are a fun protective style, you must also be mindful that they remain that way. "Knotless braids can potentially lead to hair damage if not properly cared for. It's generally recommended not to keep in knotless braids for more than two months." 
Here are Adogu's five easy-to-follow tips for caring for your hair while wearing this style.  
"It's important to keep your scalp hydrated and moisturized!" Adogu explained. She advised that you apply a lightweight, oil-based moisturizer or scalp oil to your scalp and along your hairline. "Make sure to gently massage the product to promote blood circulation and maintain a health scalp environment."
A bonnet is your hair's best friend. She's there all night to ensure we are protected."Wrap your hair in a silk bonnet to minimize friction and prevent moisture loss. This helps to maintain the integrity of your hair and reduce frizz," she said.
Wash Day is Still A Thing
You didn't think you would avoid that wash routine, did you? We hate to do this to you, but wash days are still necessary—even with protective styling. "You can wash your scalp every 2-3 weeks. Using a gentle sulfate-free shampoo diluted with water is okay to cleanse your scalp." And don't forget that massaging technique! It's still important while washing your scalp.
Your haircare routine may be less intense for your knotless hairstyle, but it's still needed. "Use a leave-in conditioner or hair oil to moisturize your braids between washes, said Adogu. "Since wash days are further apart, avoid roots to prevent build up. Start from the end and work your way up."
"Apply a small amount of nourishing edge control along your hairline to keep it smooth and prevent breakage," said Adogu. We know that styling those edges is one of the best parts of having knotless braids. There are plenty of TikTok tutorials on keeping them laid. "Avoid tugging or pulling on your edges when styling your braids," said Adogu' the queen of laying edges!