Robin Thicke Reflects On The Album That Changed It All For Him
The five-time Grammy nominee singer/songwriter is celebrating the 20th anniversary of his debut album, A Beautiful World.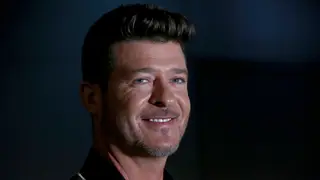 Now, 20 years after the debut of his first album, A Beautiful World, Thicke is flexing his creative chops again but in a different way. Recently, Thicke stopped by BET's New York office to talk about his creative process on the heels of releasing his latest single, "Brown Liquor".
BET.com: Over the years, you've released multiple albums and singles – each with its unique sound. How do you keep evolving as an artist and stay fresh in this industry?
Robin Thicke: Well, I try to just evolve as a human being, and hopefully that naturally influences the art. I just love music so much, and I feel like I've just scratched the surface of how much music I was born to make.
BET.com: As a singer and songwriter, can you share your creative process and how you find inspiration for your lyrics and melodies?
Robin Thicke: Nowadays, my creative process usually comes from having some quiet or some space. If there's some quiet and some space, I can start to formulate something. But most of the best songs just come from true, natural inspiration, and the songs just write themselves in 10 to 15 minutes when they're coming from the right places.
BET.com: Your dad (Alan Thicke) was a successful actor and songwriter. Did growing up in a showbiz family ultimately influence your career choices and artistic development?
Robin Thicke: Growing up in a showbiz family definitely makes you see that it's possible that you can succeed if you want to follow in those footsteps. My dad came from a small mining town in Canada and made his dreams come true. My mom, you know, was from Hoboken, New Jersey, and she made her dreams come true. Once you see that as inspiration, you believe you can do it.
BET.com: ​​And since we're talking about family ties, let's talk about your son, Julian, who is also a fantastic singer. Does he want to follow in your footsteps?
Robin Thicke: He does. He's just a natural performer, and his voice is outstanding. He's got the gift.
BET.com: Who do you consider your mentors in the industry? We know you had a special bond with the late Andre Harrell.
Robin Thicke:  Definitely. My biggest mentor and influence was Andre Harrell, but also my father, because watching my father and how he treated people with kindness and respect and how everywhere he went, people loved working with him. I've tried to be as much like my dad in that way as possible. I've tried to always listen to Andre Harrell's voice in my ear telling me what I should do next with my career.
BET.com: What's your pre-show ritual like before you hit the stage?
Robin Thicke: My pre-show ritual is pretty simple. I change my clothes, do my hair, and go over with the band, whatever we want to remember, or whatever the important beats are for that night. And then we just go out and rock.
BET.com: What's the right number of buttons for a man to have unbuttoned on his shirt?
Robin Thicke:  Well, it depends on the man, and it depends on whether he's performing or not. You're allowed to unbutton one button if you're singing or onstage, but I wouldn't go past two buttons or three buttons max, if you were, you know, at the dentist's office.
– Additional reporting by Donicia Hodge.