Dave Chappelle Makes a Surprising Statement About Trump's First 100 Days
The comic isn't afraid to own up to his mistakes.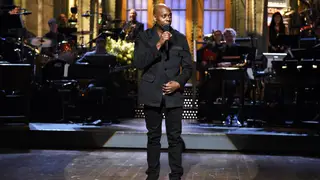 The comedian recently took the time during one of his comedy sets to apologize for once urging Americans to "give Trump a chance."
This all dates back to Chappelle's celebrated hosting gig on Saturday Night Live last November when he seemingly offered support for then president-elect Donald Trump. Less than a week after he won the presidency, Chappelle used his opening monologue to say he was going to give the reality star-turned-politician a chance, and urged the rest of the nation to hop on board.
Now, months later, after witnessing Trump's performance thus far as POTUS, the comedian is apologizing for the premature claims he made during his monologue.
During his hilarious set at the Robin Hood Gala in New York, he told the crowd, "I was the first guy on TV to say, 'Give Trump a chance.' I f****d up. Sorry."
He also criticized Trump's Muslim ban later on in his set, hilariously admitting that he was probably speaking to the wrong crowd on this matter:
Get the latest on Chappelle in the BET Breaks video, above.