Surprise: Twitter Sides With Azealia Banks Over Sarah Palin Feud
The MC gets to keep her account.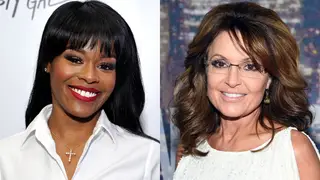 It looks like Azealia Banks is actually coming out on top with her latest beef, as the rapper's account will not be suspended after she tweeted that Sarah Palin should be gang raped. According to Twitter's guidelines, the violent language did not go against their policies.
The social media platform's response comes after a user submitted a complaint, which was initially reported by Breitbart.
"We reviewed the content and determined that it was not in violation of the Twitter Rules," the statement read.
The "212" rapper's tweet, which is now deleted, read, "Honestly, Let's find the biggest burliest blackest n****s and let them run a train on her. Film it and put it on worldstar."
While Banks' Twitter account may have gotten a pass, the rapper, herself, may find herself in hot water as Palin is planning  to Sue her over the comments.
This all started when Banks mistook a fake, satirical news story of Palin for a real one, which she later admitted was all in error and apologized. Palin, in her truest fashion, took to Facebook to issue her own response, and somehow ended up making a mistake of her own, confusing the words "condemn" and "condone."
"Why don't we strengthen both our platforms and work together on something worthwhile — like condoning racism, along with empowering young women," she wrote.
While both ladies seem to be at odds, they do have one thing in common: their public support of Republican presidential candidate Donald Trump.
(Photos from left: John Sciulli/Getty Images for Nasty Gal, Larry Busacca/Getty Images)