Mmm…arkle-able! Meghan Markle Just Dropped A New Cookbook For Charity
Watch the Duchess of Sussex work her magic in the kitchen.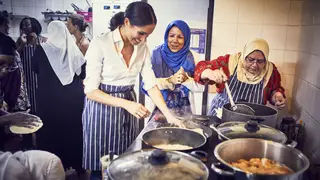 Our girl Meghan Markle may be the Duchess of Sussex, but everyone knows that a cookbook deal is what solidifies your celebritydom, and guess what? She just dropped one!
It's no secret Meghan knows her way around the kitchen. (Remember the "engagement chicken" that got her a ring?) Well, the former actress has combined her love of cooking with her love of charity work by embarking on her first solo gig as a royal. She recently lent a hand to a group of women who suffered after the Grenfell Tower tragedy by helping keep the women's community kitchen running with a cookbook of their favorite 50 recipes.
The cookbook, Together: Our Community Cookbook, is out now and includes a foreword by Meghan. Although the recipes are not hers, she was the one who suggested the women pull them together after a visit she made to the Al Manaar Muslim Cultural Heritage Centre in west London when she first visited in January.
Meghan put the women at the Hubb Community Kitchen in touch with a publisher, and, with the added help of the Royal Foundation, all sales of the cookbook will go to helping them keep their kitchen open a full week.
"Melding cultural identities under a shared roof ... creates a space to feel a sense of normalcy — in its simplest form, the universal need to connect, nurture, and commune through food, through crisis or joy — something we can all relate to," Meghan writes.
"Through this charitable endeavor, the proceeds will allow the kitchen to thrive and keep the global spirit of community alive."
Watch Meghan Markle's PSA about her work with the Hubb Community Kitchen: