Joe Budden Went Full Savage Mode On Eminem For That 'Fall' Diss Song
"I've been better than you this whole f**king decade!"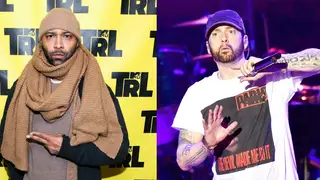 Detroit rap icon Eminem isn't getting off easy from his former Shady Records-overseen Slaughterhouse rapper now-podcaster Joe Budden following the hellish mouthful Em delivered from his surprise Kamikaze album's "Fall" diss track.
Joe returned fire on the airwaves instead of on-wax, taking to his Joe Budden Podcast chair for an explosive response to Slim Shady. Common hip-hop knowledge already holds that the two have had a rather stormy relationship after Joey's 2017 scathing criticism of Em's socially-conscious "Untouchable" single and Em's first warning shot, "Chloraseptic (Remix)." Some slight jabs thrown later from Em's affiliates, such as 50 Cent and D12's Bizarre, still wasn't quite enough to spark fumes from Uncle Joe.
Slim Shady's latest diss seems to be the last straw for him, however. And he's bucking back with a news flash for Eminem that's got Slim Shady versus Slaughterhouse Twitter in a heated debate.
The 'Fall' lyrics that broke through Joey's cordiality for Em goes as follows…

"Somebody tell Budden before I snap, he better fasten it/ Or have his body bag get zipped/The closest thing he's had to hits is smackin' b**ches…"

Joey heard the shots loud and clear, and responded with his own PSA

"News flash Em," he said on the podcast. "I heard the album, and because I think you don't really know all the members that were in [Slaughterhouse], I don't really think you know our history. Let me tell you what Joe Budden has thought this entire time: I've been better than you this entire f**king decade!" That's something he couldn't say back in the day, he added.

In his "rapper brain," Joe continued, he doesn't believe Eminem has merely "rhymed a bunch of words" for the last decade instead of actually imbuing any substance or meaningfulness into his rap art.

Half of the internet seconds those sentiments, while the other half is jumping to Em's defense