Rikers Island To Close Thanks To Advocacy Of Victims And Survivors
New York City votes to shut down the notorious jail complex.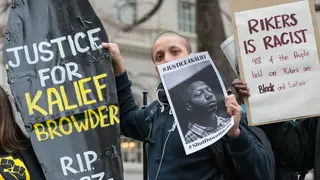 Droves of native New Yorkers and activists arrived at the steps of City Hall on Thursday (Oct. 17), demanding the closure of Rikers Island, one of the country's largest jail complexes notorious for its heinous abuse and correctional mismanagement. 
Rikers' reputation came to a head in 2017, when Jay-Z partnered with Netflix to premiere a four-part documentary on Kalief Browder, a Black teen from the Bronx who ultimately committed suicide after years of severe punishment under the watch of a facility that wrongly imprisoned him. One former employee at Rikers corroborates what many learned for the first time with Browder's story.  
"For the last eight years, I've been trying to fight directly to change the conditions on Rikers Island after working there and then being fired for telling the truth," said Dr. Victoria A. Phillips, a lead organizer at the march campaigning to shutter the infamous institution, which sits on a 400 acre land mass in the East River.  
"I'm here because my mother's buried in a military cemetery and she died for the illusion of justice that Black and Brown people still have yet to receive in this country. I'm here today to try to end that illusion and actually make it a reality."
The proposal that was approved by the City Council on Thursday will replace Rikers Island with four drastically smaller jails in four of the largest boroughs: Manhattan, Brooklyn, Queens and the Bronx. For the system's own victims and survivors, the vote to abolish Rikers Island was a sweeping victory. 
"One of the most important things to acknowledge is the city's going to go from 15,000 beds to 3,800 beds. So when we talk about decarcerating, that's huge. You're also talking about improving conditions for anyone who's going to be remanded. We deserve improved conditions. People deserve improved conditions, because we know people are still going to be left behind on Rikers and we can't let that happen," explained Vidal Guzman, who himself was tried at 16 as an adult and sent to prison upstate before landing in Rikers Island for nearly four years of his seven-year bid.
Yet, not everyone marching on Thursday was happy about the vote. Many abolitionists fear the building of more jails simply feed into our country's history of punitive punishment. Guzman, who is a member of the JustLeadershipUSA and has dedicated his life to prison reformation since coming back into society, rejects that school of thought.
"If we're thinking about abolitionists, we have to make sure that we're pulling from the system from every single way," he said. "We can't forget that because remand is not gonna end tomorrow, people are still going to be left behind. We shouldn't be leaving anyone behind in no condition that is not an improved condition. These facilities were never built for making sure social services are operating. And I've been in these facilities, so let's improve conditions."
Guzman echoes the sentiments of many. One protester by the name of Anna Pastoressa braved the windy chill on behalf of her son, Jairo Pastoressa, who sat in Rikers Island for six years without trial. 
"I've been going to Rikers Island for six years, every weekend, visiting my son who was in prison there waiting for trial. He was denied his constitutional rights and, of course, he never got a trial." 
Jairo, an East Village graffiti artist of Brazilian descent, is out today, but not without "the very deep scars that left him with PTSD." 
"This is a punitive society. We need to change the narrative. We need to help people," Anna doubled down. "A lot of the people who end up in jail or arrested is because they don't have resources in their neighborhoods and that happens to a lot of people of color. People who don't have money, because the really privileged – who are the real criminals – are not in prison. 
"People need to understand that Rikers Island is a detention center, it is not a place where you are convicted. 70 or 80 percent of the people there are waiting for trial. The law says that you are innocent until proven guilty. So why are they treating them like guilty people? Not even an animal. You talk to animal lovers and animal activists—you cannot even treat an animal like that."
Mayor Bill de Blasio's vote to officially close Rikers after years of dismissing the idea will usher in new laws that ban cash bail for people charged with misdemeanors and nonviolent felonies, and for Guzman, that's a step in the right direction no matter which way you slice it. 
"Because of our advocacy work, on January 1, 2020, we're going to have 9,000 people coming home from New York state."