Lori Harvey Dishes On Her Dad Steve Harvey's New Status As A 'Style Icon'
The SKN by LH owner is sharing details about her dad's new fashion. Plus, see his stylish new wardrobe!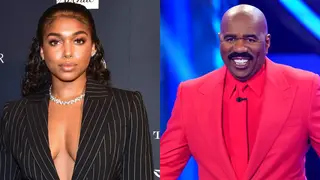 Lori Harvey is speaking out on her dad's new status as a style icon! In case you haven't gotten the memo, Steve Harvey has landed major style points for his latest fashion transformation that features custom tailored 'fits and lots of leather.
"I would like to take credit, but he actually has my best friend as a stylist, Elly Karamoh," Lori explained to E! News. "He has completely transformed him, he's like a new style icon."
The 24-year-old model added, "He's feeling himself. You can't tell him anything right now."
While Lori admits she can't take the credit for his smooth new style, she reveals that her new skincare brand SKN by LH attributes to his natural glow.
According to Lori, Steve has become a big fan of the brand after trying products from the vegan collection that dropped on Oct. 22. He's even gone as far as to call her in the middle of the night requesting a refill. "He loves it. He literally called me the other night—it was late at night— and he was like 'where are you?' And I was like 'at my home, what's going on.' He was like, 'I need some eye cream.'"
She went on to reveal that she expedited his samples. We love it! 
While we don't know the exact inspiration behind his new looks, we are certainly feeling Mr. Harvey's newfound swag. How about you?