Hip Hop Awards 2023: 5 Tracks from ATL Jacob You Might Have Missed: Uncovering Hidden Gems From the Atlanta Producer
Get familiar with the sounds of the Grammy Award-winning producer.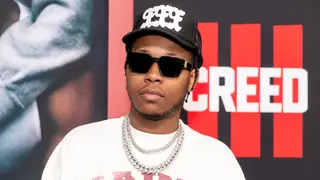 Jacob Denzal Canady, better known as ATL Jacob, is one the hottest producers in the industry as of late. The multi-instrumentalist started collaborating with rappers including Future and Kodak Black on songs including "First Off" and "Super Gremlin," respectively.
Most recently, he's been working with emerging female emcee Kaliii, cranking out tracks like "MMM MMM." The Atlanta native's exceptional talent and dedication to his craft have recently earned him a prestigious nomination for "Producer of the Year" at the highly anticipated "BET Hip Hop Awards," 2023, hosted by rapper and co-executive producer Fat Joe.
The 24-year-old is up against several seasoned and veteran industry figures such as KAYTRANADA, Metro Boomin', London On Da Track, Hitmaka, DJ Khaled, Hit-Boy,  and Dr. Dre. However, you'll have to tune in on Tuesday, October 10, 2023, at 9 PM ET/PT on BET to see who takes home the title during a night of mega win, a must-see performance, and a celebration of 50 years of hip hop.
"KEEP IT BURNING"

ATL Jacob partnered with longtime collaborator Futures for the 2022 track "KEEP IT BURNING." The song also features a verse from Kanye West.

Nicki Minaj - "Last Time I Saw You"

"Last Time I Saw You" is the latest single from Nicki Minaj, produced by ATL Jacob.

Kaliii - MMM MMM (feat. ATL Jacob)

"MMM MMM" features a sample of Trillville's 2004 single "Some Cut" featuring Cutty.

Roddy Ricch - "Intro"

ATL Jacob teams up with Billboard Hitmakers for the first track on Roddy Ricch's debut album "Please Excuse Me for Being Antisocial."

Lil Durk "Granny Crib"

Chicago native Lil Durk enlisted ATL Jacon for his 2018 track "Granny Crib."

Watch the Hip Hop Awards 2023 on Tuesday, October 10, 2023, at 9 PM ET/PT on BET.