Offset Changes His Instagram Avatar To TakeOff Amid Fatal Shooting
The former Migos has not officially released a statement about the death.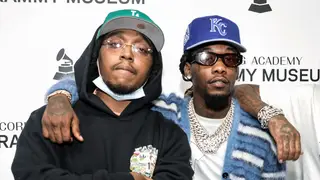 As fans and celebrities are celebrating the life of TakeOff and remembering the late rapper who was killed in a Houston shooting, Offset, who many have speculated is a former member of Migos, changed his profile picture in honor of their group member.
Offset, who is also TakeOff's cousin, recently changed his profile picture to the deceased rapper, and it seems the Grammy-Award winner is grieving in his way. 
Earlier this year, rumors circulated that there was drama amid the group. And in August, Offset filed a lawsuit against Migos' record label, Quality Control, claiming ownership of his solo albums, even though he bought back the rights to the songs in a deal for 2021.
While neither of the Migos members publicly commented on his death, their label Quality Control released a statement yesterday, sharing senseless gun violence and stray bullet resulted in the passing of the 28-year-old.