Reggae: The Voice of Jamaica
For Black Music Month, we discuss the roots of reggae from The Techniques to Bob Marley and the Wailers.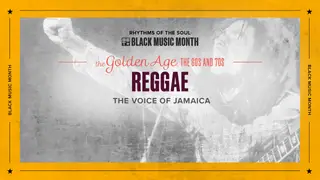 Though America was witnessing an evolution of modified Traditional African music from slavery through standards including blues, gospel and jazz, similar changes were also happening in the Caribbean. In Jamaica, African slaves remained under British rule until being abolished around 1834. New musical styles would emerge decades down the lines, including ska. Incorporating traditional Jamaican folk music elements such as Mento alongside other Caribbean cadences like Bamba and Bolero. All of these artistic expressions would lead to the birth of reggae.
"Reggae just has this very distinctive trajectory that only could have come about in Jamaica," said David Katz, who has earned a reputation as an authority on the genre. For several decades, Katz has written for outlets ranging from The Guardian to Newsweek and Wax Poetics. He's also written books on reggae, such as People Funny Boy: The Genius of Lee "Scratch" Perry and Solid Foundation: An Oral History of Reggae.
According to Katz, some of the early solo singers of the era include Pat Kelly and Slim Smith, alongside groups like The Techniques and a very early Bob Marley and the Wailers. Other pioneers like Toots and the Maytals, Jimmy Cliff and Desmond Dekker also contributed to Reggae. Those pioneers lent distinct characteristics to the genre through syncopated guitar and bass patterns and the prominent use of the skank guitar technique.
Reggae reached new heights internationally through the rise of icon Bob Marley. Following years of trying to break through, singer/producer/composer Lee Scratch Perry got Marley to reconfigure his approach to singing. The moment prepares them for the international breakthrough they achieved when they signed to Island Records.
Following a rupture with Scratch about payments, they eventually formed a new label called Tuff Gong for self-produced work while fulfilling their Island Records obligations. Releasing well-received projects including Catch A Fire and Burnin, their 19734Dread would become the breakthrough for Bob Marley and the Wailers thanks to "No Woman, No Cry."
Once Bob Marley was nearly assassinated in Kingston in a general election in Jamaica, he fled for London where he began working on opus Exodus. Released in 1977, it would ultimately be chosen as Time Magazine's album of the century. Tracks ranging from "Jamming" to "One Love/People Get Ready" have become reggae standards.
"Let's face it, without Bob Marley, you're having this conversation right now," explained Katz. "That's how most of the world knows Jamaican music. He's the country's most famous son and people who saw him live know it's not like any other concerts. Marley was a perfectionist and worked with the band extremely hard."
Deejays, including Count Matchuki and U-Roy were inspired by American jive-talk DJs on r&b and jazz broadcasts that would reach Jamaica. At that point, Jamaican culture had already featured large parties and dances with PA systems to play pre-recorded music. Deejays like Count Matchuki and U-Roy introduced jive talk as most sound systems only had one turntable. This would evolve into toasting, rhythmic, talking-like vocals that helped transitions between songs.
"There'd be a bit of dead airtime," said Katz. "He started to introduce this kind of jive talk rhyming slang that came from African American culture and from radio broadcasts from the states that Jamaicans could tune into late at night."
Kingston native Clive Campbell witnessed these moments before moving to New York. There, he would serve as one of the foundations of hip-hop culture as DJ Kool Herc. Reggae evolved internally into dancehall due to artists including Duke Reid and Henry "Junjo" Lawes in the early 1970s to the 1990s with Shabba Ranks.
Known stateside for classic "Mr. Loverman," Ranks would also catch fire in Central American countries like Panama, Costa Rica and Nicaragua with "Ting-A-Ling." This would set the stage for reggaeton to become popularized in Puerto Rico, where artists including Daddy Yankee, J Balvin, Bad Bunny and others would become some of the most recognizable artists in the world.
"The popularity of reggae had all these repercussions throughout Jamaica and diaspora but also in other communities overseas that didn't necessarily have a connection to Jamaica," Katz said."