Jazz: The Sound of New Orleans and Beyond
We look into the improvisational genre that started in New Orleans for this Black Music Month feature.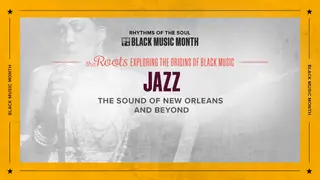 Jazz, an ingenious and spontaneous genre that emerged in the late 19th and early 20th century, has garnered global acclaim due to its distinctive syncopated rhythms and resonant Blues tones. Its rich heritage finds its roots in the heart of New Orleans. In recognition of Black Music Month, we're featuring an exclusive conversation with David Kunian, the seasoned curator of the New Orleans Jazz Museum. Over the decades, Kunian has meticulously curated many exhibits for the esteemed institution, now more than half a century old, showcasing legendary figures from the past and present.
Initially a genre of music created by Black musicians in New Orleans, Charles "Buddy" Bolden is credited as the "First Man of Jazz." Other early jazz artists from the area included Freddie Keppard, Joe "King" Oliver, Jelly Roll Morton and Kid Ory. The genre became a nationwide craze around 1917 when the all-white band Original Dixieland Jass Band (yes, spelled with two s(s)) created the first recorded record in the genre "Livery Stable Blues." Released on a 78 vinyl record, it would sell enough copies to make the genre a nationwide craze. Several factors would lead to jazz artists leaving New Orleans, which helped the genre spread to New York, California and Chicago.
"New Orleans started clamping down on jazz clubs," said Kunian. "Plus Jim Crow had been going on at that point for a good 20 years already. This led a lot of musicians to leave the city looking for work while trying to not have to deal with racism."
In Chicago, the city's open-mindedness toward entertainment allowed jazz to flourish. Meanwhile, the vibrant atmosphere, fueled by gangsters like Al Capone, made the area a new hub for the genre. New Orleans native and pioneering trumpeter Louis Armstrong also begins recording his first songs around that same time. The "Roaring Twenties'' saw the United States have unprecedented economic growth and prosperity; jazz served as the soundtrack to the time. Outside of becoming a national sensation, jazz also spreads overseas to areas like Europe while evolving stateside.
"They started hearing about it in Europe because of the 78s recordings and people traveling to see these bands," explained Kunian. "By the time the 1930s come around, the music changes a bit and becomes more swing music. This was dance music in those early days. You can shake your booty to it despite the sophistication."
This leads to jazz music becoming pop music thanks to musicians like Duke Ellington, and the genre evolved even further. Legendary jazz vocalists, including Billie Holiday and Ella Fitzgerald, began securing their legacies. Subgenres began to emerge as well, such as bebop, hard bop and cool jazz, around the 1950s. Once the 1960s rolled around, early soul, r&b and Motown changed American pop taste. It doesn't stop jazz lovers from loving the genre's unique sophistication through rich melodies and improvisational nature.
"If you wanted to be hip in the 1950s and early 1960s, you had Miles Davis and Lester Young Records," Kunian said. "Jazz became the alternative music for those who were cool."
As time passed, jazz acquired a reputation for being sophisticated and inaccessible to the average listeners as popular music tastes changed in America. Like classical music, the complexity of specific compositions didn't allow the genre to be as approachable as it once was mainstream.
That hasn't stopped jazz from remaining a diverse genre featuring many accessible artists and styles. This year alone, Samara Joy became the first jazz vocalist to win a Grammy Award for Best New Artist since Esperanza Spalding did the same over a decade ago alongside winning Best Jazz Vocal Album for her Linger Awhile album at just 22 years old. Meanwhile, Robert Glasper won Best R&B Album for Black Radio III this year, while artists like Terrace Martin and Masego experiment with various genres, from hip-hop to house through jazz. Despite misconceptions about the genre's accessibility, jazz's influence is felt in every aspect of modern popular music.
"Whether it's being played by Black folk, white folk, Asian folk, indigenous folk or Latinx folk, African and African American music hits the roots of all popular music around here," Kunian said. "And jazz is a part of that."