DNA Results Allegedly Prove Whether or Not Reggie Bush Is His Side Chick's Baby Daddy
Monqiue Exposito is speaking out again.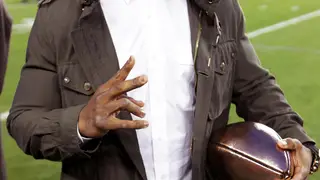 Monique Exposito, the woman who claims to have given birth to Reggie Bush's baby, has revealed that the DNA test results have proven that the NFL star is the father of her child.
According to Bossip, Exposito, who gave birth to her son, Preston, on Super Bowl Sunday, told friends and family that Bush's DNA test came back confirming that he is Preston's dad.
She also added that now that she has the proof, she is planning on suing him for everything he's got.
She recently took to social media to say she is "at peace" with herself and the situation.
"At the end of the day my close ones know me and know what's up, and I'm at peace with myself," she wrote on Instagram.
A source added that Bush doesn't want anything to do with the child or Exposito, but will provide, financially.
See how social media reacted to the news: