RHOA's Kenya Moore Rushed to Hospital With Dizziness and a 'Hard Time Breathing'
The reality star had just recovered from a bout with COVID-19 when she faced another health scare.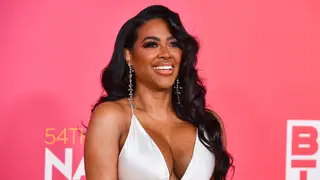 Real Housewives of Atlanta Star Kenya Moore was rushed to a hospital on the latest episode of the hit reality show.
The ladies had traveled to Birmingham, Alabama, for Kenya's halftime performance at the Magic City Classic football game between two HBCUs when the 52-year-old felt ill.
"I don't know where I am," Moore said on the morning of her performance. According to People, she told production: "I need an ambulance, please ... I'm dizzy, and I'm having a hard time breathing."
The reality star was transported to an area hospital.
In a taped confessional interview, Moore said, "I woke up feeling the weight of everything that I had been through in the last few weeks." Earlier on the show, she told the 911 dispatcher that she had just had COVID but was unsure what was making her currently ill.
RHOA co-star Sheree Whitfield who was in a hotel room near Moore, later filled castmates Marlo Hampton, Monyetta Shaw, and Courtney Rhodes in on what happened.
"I woke up this morning hearing a lot of commotion outside my door," said the 53-year-old She by Shereé founder. "I opened the door, and this EMT [is] outside." She told the ladies, "Kenya, she's at the hospital right now."
Shaw, 43, added, "She was going to get a chest X-ray. Like, it's serious."
"She was having trouble breathing," Whitfield added. She then FaceTimed Kenya, who shared from her hospital bed: "I had a fever of 102, and I'm waiting for the other tests to come back. They couldn't get my vein, so I couldn't get the IV push."
The women then offered to visit her in the hospital, but she declined.
The night before, Kenya and Marlo had been arguing. However, she took Kenya's illness as an opportunity to lead the group in prayer. Afterward, she said, "Golly, that hurt my heart. Like, we argue, we're fussin' and we're fightin' about stupid s--- , and this is real stuff — in the hospital."
Moore was quickly discharged from the hospital. She later gave Whitfield an update on her diagnosis.
"They did the chest X-ray; they couldn't find anything abnormal," she said. "And then they came back and said I had the flu. They gave me some prescriptions. All this back-to-back sickness, it's just something is not right."
She expressed disappointment about having to end her trip early in a confessional. "Missing out on the performance at Magic City Classic was a big blow to my brand," she said. "I mean, I didn't attend an HBCU. I have always, like, kind of longed to be there in the middle of all that and to feel that love. As a business that's owned and operated by a Black woman, to be able to perform on that huge stage rooted in so much Black history for me was very important to be a part of that. So, a little heartbreaking."