Amara La Negra and Cardi B's Sister Get Into A Heated Colorism Debate Regarding Afro-Latinas
"I think your misunderstanding what I'm saying..."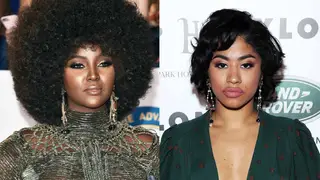 Colorism, the discrimination based on skin color, has become a hot topic on social media since Love & Hip Hop Miami star Amara La Negra appeared on the Breakfast Club commenting on the topic. 
Posting a snippet of the interview on Instagram, The Shade Room highlighted the conversation where radio personality Charlamagne Tha God brought up fellow Latina rapper Cardi B.
In the 41-minute interview, Amara explained that Cardi was not trying to break through the Latin music market, but instead the American music market pretty much expressing that because Cardi was lighter than she, it was easier for her to do. 
"Cardi B is Dominican and she's mixed with something else, yes. Now she's America's darling, okay so at the end of the day she popped off in the American, not the Latin market," Amara shared.
Hennessy Carolina, Cardi B's little sister, didn't take too kindly to the statement, taking to her Instagram to share her thoughts, which she later deleted:
"Okay, she's obviously beautiful. This is the same message my sister has been trying to spread for a while now, but it doesn't count because she's not so dark? People f*** with Cardi because of who she is, not because she's light skinned. I think that's what Charlamagne was saying, a girl from her same country with her same hair in braids from the hood that had to become a stripper because it was hard for her to find a job BECAUSE IF HER HAIR AND COLOR. […] We are woke and we're fighting for the same rights girl."
The debate didn't end there, Amara later responded to Hennessy saying, "Mama, I have never said she's not a hard working girl I have always admire her, I've said it in every interview. I'm not putting her down…and she deserves everything god is blessing her with cause she has worked for it. I think you're misunderstanding what I'm saying."
Most agree with Amara and are saying that Hennessy didn't quite understand the point that Amara was trying to make. "I just don't think she gets the point," one commenter responded.
The debated about colorism continued when Afro-Latino actor Laz Alonso joined the conversation on Charlamagne Tha God's Instagram to question colorism in Latin America.
"U my guy, but to question colorism in Latin America because Cardi B made it is like questioning it in America because Will Smith did. The problem exists, turn on Telemundo, Univision or look for any black women Latin female artists on any Latin awards shows. U won't find them. The problem is worse in Latin American than it is here." 
Feeling as though her ideas were not properly shared, Hennessy later posted her response clarifying that she mostly "didn't appreciate the gesture when you ask if my sister made it cause she is "light skin":
Clearly after following the debate it is obvious that colorism is real. And yes, we as a people have to be more willing to work together to improve all of our experiences as Black people, no matter the shade!