Jackie Christie Claps Back at Vicious Allegations From Her Estranged Daughter
The reality star was dragged on Twitter.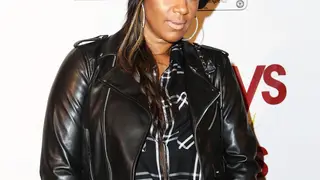 Jackie Christie has been the topic of headlines today after her estranged daughter whom she refuses to acknowledge had to raise money via Go FundMe for her toddler son after he was severely burnt. Now, the reality star has broken her silence in an exchange with a fan, and she seems unbothered, and even explained that she's actually willing to help.
In the Twitter exchange, Jackie spoke out against the claims made by her older daughter TaKari who, in addition to being forced to raise $3,000 without her mom's help, said she wasn't invited to Jackie's 20th wedding, which her siblings attended.
Take a look at what she had to say, below:
Speaking with TMZ, the reality star said, contrary to reports, she actually did not refuse to pay for her grandson's medical bills and is willing to help in any way she can. She even went on to say that TaKari was the one who cut her off and never personally reached out to her for help.
Jackie continued, saying she has given TaKari lots of money throughout the years, making her financially stable enough to cover her child's medical expenses on her own. 
She claims her older daughter only went public with these claims to tarnish her name.
Watch former Basketball Wives star Draya Michele talk about life since leaving the show, in the BET video, above.