Rumors Heat Up About Megan Thee Stallion's Possible Role In Disney Plus New 'She Hulk' Series
The Marvel series is expected to be released later this year.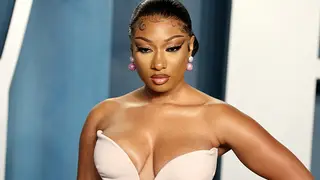 Last summer, rumors began swirling about Megan Thee Stallion's possible Marvel Universe role in the upcoming Disney Plus series She-Hulk.
The Cosmic Circus reported Thursday (March 31)  that its investigation found "pretty solid new evidence" that the Houston Hottie will indeed appear in the series, expected to be released later this year. However, the site said it complied with a request to remove the specific evidence from its report.
Screen Geek, citing the Cosmic Circus article, revealed Sunday (April 3) that Cosmic Circus' uncovered evidence with information that a stunt performer was hired to double for Megan.
The original rumor of Megan's involvement in the series reportedly began with the YouTube channel Everything Always back in July 2021. Host Michael Roman, citing an unnamed source, reported that Megan would join the She-Hulk cast. Roman said Megan would portray herself in several episodes. However, he cautioned that his information didn't come directly from Marvel Studios.
"However, I vetted this with two separate sources involved with the production. I'm almost 99.9 percent sure when I come out and report this kind of exclusive," Roman added.
According to Disney, She-Hulk is a comedy series with Tatiana Maslany staring in the lead role as attorney Jennifer Walters, a lawyer who specializes in superhuman-oriented legal cases.