Durand Bernarr: The Singer-Songwriter Talks 'Wanderlust,' 'The Terrell Show,' and How To Become His 'Cousin'
You may have caught him performing during the Soul Train Awards 'Soul Cypher,' now learn more about the talented singer.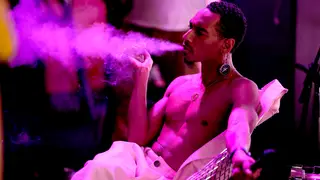 When you have a conversation with anyone about music, vocal control, and vocal versatility, at the top of most music lovers' lists you have no choice but to mention Durand Bernarr.
Whether singing background or stepping into the spotlight, Bernarr continues to give us bops after bops and prove to the music industry that he's not one to play with. His album Dur&, which featured appearances from Kaytranada, Anna Wise, and Ari Lennox, solidified the Cleveland, Ohio native as a certified superstar.
BET.com was able to chat with the 33-year-old phenom about his upcoming album, fan meet and greets gone wrong, and how you can become family as one of his "cousins."
---
BET.com: Most music lovers have come to know you from your work with Erykah Badu and your viral presence on social media. As an artist now coming into your own, taking center stage, how does this moment in your career feel? And what projects are you excited about sharing with your fans this year?
Durand Bernarr: I stepped into my own when I was 16-years-old. So for everyone now discovering me through Erykah, I was already doing my own stuff which is how Erykah found me. I've been putting out projects since 2009 so this past project I put out was my [ninth] noodle that I threw at the wall and that one stuck. Pun intended [laughs]. As far as getting recognized for the work I've been consistently putting in, it feels like I'm finally getting the seeds so I can plant my own flowers.
BET.com:  I love how versatile of an artist you are. From being free in your songwriting to how you express your masculine and feminine identities on stage, how did you get to this level of comfortability as a performer and musician? At any point during your growth, were there any other artists or peers that helped to bring that out of you?
Durand Bernarr: My parents — a.k.a. my mom and dad. Shoutout to the 'rents a.k.a. my children [laughs]. We get to that age where our parents become our children. The support that I've gotten from them has cemented my confidence and self-awareness. Being immersed in the theatre, musicals, martial arts, and skating — those things prepared me for entertainment and to be comfortable within myself. I just honed it and kept working on it. When it comes to my peers and who helped bring it out of me, I would have to say my homie Avehre  — a talented artist who was singing background for Gladys Knight when we met back in 2013. 
Around 2015, he had moved to Los Angeles and I had reached the point where I felt I wasn't effective enough in what I was doing. I was thinking I should try something different. I thought of possibly entering the trap space and he told me he would slap the Sonic rings out of my head if I did that [laughs]. He reassured me there's a way to be commercial and still myself. We went through all the songs that I had and broke them down. He would tell me the melodies were atrocious and to add some structure — not do the same thing over and over. 
Once I got that, it just clicked. When we build as creators, it may feel good to us but it also has to translate to everyone else. Once he helped me, it became a real turning point for me.
BET.com: As one of your mom's "little friends," your charisma and personality found you in rooms with stars like Lynn Whitfield and on shows like 'Black Lady Sketch Show.' Is there anyone you've met in the industry with that you'd want to be BFFs? Why?
Durand Bernarr: Rihanna. I've been down with Rihanna since "Pon De Replay." To see her evolution — we were right there with her. I always hear good things when people encounter her and on top of that, how she smells is amazing. I feel like that would be a really dope relationship to have.
BET.com: Do you have a favorite era of hers?
Durand Bernarr: So, I have this game that I play and it's called "Repertoire and Reason" with music kids. We take an artist that has two or more bodies of work and we classify them in the categories of "classic" and "masterpiece" including their signature song. I treat Rihanna's discography like I do with Janet Jackson and it starts with Control. Good Girl Gone Bad was Rihanna's introduction like "here I am." 
However, that Rated R album was a masterpiece for me because for her to go through what she went through that February and drop an album that November — I'm very interested in hearing what her experience has been. It also was right on time for where I was in life. I feel like that was her Rhythm Nation album because it was so vast with the production. You have rock, trap, 808s, and an early version of trap hop on there. She stuck her foot in with that one. I appreciate all the Riri eras but Rated R, that's my thang.
BET.com: Let's get into the lead single for your upcoming project Wanderlust called "Lil Bit." What was the inspiration for the record and what vibe were you going for?
Durand Bernarr: The hook came to me immediately. I was wondering how am I going to tell this story because this is a fool in a comedic way. I don't want to give anything away because I want people to be caught off guard by the hook. I'll say this: it is about knowing what you want, what you need, and being transparent about it. As far as the music goes, the whole project is very upbeat. You're gonna dance and bop your shoulders.
BET.com: When it comes to Wanderlust, what type of journey are you trying to have your "Cousins" embark on this go-around?
Durand Bernarr: The title of the album is a head nod to Kelis, who was one of my favorite artists growing up. She had a sophomore album called Wanderland. Wanderlust means the desire to travel and throughout the pandemic and life, I have a strong wanderlust for myself. I'm always traveling inward to see what do I want, what do I need, and who am I at this time in my life? The album will discuss some stories and experiences that I discovered on that journey inward. It's a departure from the last album as I thought Dur& was a masterpiece and then I created this one. I feel like over time, this upcoming album will age well.
BET.com: What was your creative and mental space like during your Dur& sessions? How did that grow or change once you started recording Wanderlust?
Durand Bernarr: I felt like I had a little more time to figure out where Dur& was gonna go. It took like two years to create that project. I was really just trying to figure out a cohesive body of work. I didn't want any fillers, I didn't want anything that was skippable. On this go-around, I was able to get with an actual band and create stuff. I went to Dallas and got with my homies who play with Erykah [Badu]. We've been playing together for years. 
We just cut about 14 different songs and ideas. It was really beautiful. The synergy that we had created some of Wanderlust. I don't ever want to create an album now without at least having one or two sessions with an actual band. We get a chance to create on the fly versus having tracks. There's something about when you can be there for the birth of the music, and you can tweak it as you go along. I feel really good about this one.
BET.com: Have any of your musical peers heard the new album and offered any feedback?
Durand Bernarr: I let Erykah [Badu] hear about nine songs off the project. Out of those nine, she sat down for one of them, so that felt good. My homie Ringo Rashad, who also produced "One More Chance" by The Notorious B.I.G., amongst other hits, was listening to the song produced by Roman Gianarthur from the Wondaland camp and he was vibing.
BET.com: The Roots Picnic is a big deal, but for those who would have missed your June 5th performance — what can a new "cousin" who is coming to watch you live expect from the experience?
Durand Bernarr: Well, first and foremost, they can expect to be inspired. That is one thing that I really want. I want people that step into a space where I am commanding your attention to leave and feel like they never wasted their time coming here. It's gonna be very churchy but in a secular manner. I've embraced my roots in the church, and I can operate through this space without having to subject myself to certain practices and whatnot. 
So it's definitely been implemented into the live show. I'm telling everybody to bring a choir robe with them. I am performing three songs off the new project for The Roots Picnic. I'm doing the single and the other songs will be a welcomed surprise. I'm interested to see everybody's reaction to "New Management" because it's the second most transparent record on the album."
BET.com: You're stepping out on your own with a headlining tour set for this summer. Have you received any good advice on crafting your own experience for longtime and new fans of your work? How have you begun to prepare to star in your own tour?
Durand Bernarr: This will be the second headlining tour that I've been on as the first one I did was for my EP, Sound Check. This one will be more enhanced as I have a bit more support this time. I'm able to actually have my band with me instead of going to different cities and working with a house band. There's a certain level of freedom that I've now been able to tap into with having a band that knows the stuff so now I can move more freely.
I am planning on having an opener. I've always wanted a comedian to open up my show. So that's gonna be fun. There's a comedian named Willie Johnson that I'm interested in having open for me. I've been on the road since I was 16 so this isn't anything new. The only difference is I'm the headliner. Other times I'd be on the road, and I'm assisting the artist or I'm behind the scenes — being a production assistant or something like that. But now, it's nice to be able to let the focus be on me now.
BET.com: For fans of HBO's A Black Lady Sketch Show, you showed your comedic chops alongside DJ Shangela and Kalen Allen. What was it like to be on the set with those two and the ladies from the show? Is there any chance to see you delve into more comedy or comedy writing soon?
Durand Bernarr: So first and foremost, people have been saying like 'Durand, you need to get into acting.' I've been doing theater for a while, I just hadn't gotten deeper into the screen. That is something I really want to tap into though. And, of course, comedy is always going to go a little further than the drama. 
Everyone [on set] was very professional. I had already been kicking it with Kalen [Allen] during a few events, and I connected with [DJ] Shangela on IG. Being on the show was our first time actually meeting in person. It was just a really fun day. It was cold in that warehouse, but other than that, I just really enjoyed myself. The cast and crew made it fun. Like, just when I was thinking I need to make sure I'm on this, they were telling me to have fun and just feel the moment out. It was a really great experience and I would love to do more of that, especially in that environment.
BET.com: You're a favorite and a recurring guest on The Terrell Show, so how does it feel to be with another Queer star on a major platform? How does that impact you and in your opinion what does that mean to the community to see such exceptionalism on screen?
Durand Bernarr: It's our time and it's been our time. I want to say that Terrell [Grice] is our generation's Arsenio Hall. I just want to put that out there! He has been working and just to see that kind of evolution happen in such a small amount of time is very inspiring. I am just glad that I can witness that and be a part of it. 
For me to even just find people that are genuine out here [in Los Angeles and] in this business is something I don't take lightly at all. When we do come across people that are genuinely rooting for us, that want us to win, that is there for us in any capacity that they can be — that's something that I hold near and dear because I know everybody doesn't have that.
BET.com: For those who know you from social media but don't know how to become one of your "cousins," what are some qualifications?
Durand Bernarr: Shoot, well, the main thing is you got to spread the gospel. You got to tap your neighbor. 'Have you heard about Durand Bernarr? Oh, you haven't? That's alright, let me put this on your playlist.' Okay, it's recruiting them. Because a lot of folks don't know that they need something until it's presented to them. And they need me, in more ways than one, they need me. They need to laugh, they need to be serenaded, they need to be inspired and to think for themselves. 
That's the main part for me. I want people to think for themselves, to tap into who they are, and who they were before the world got its hands on them. I'm all about individuality and just discovering who they are. Also, just tell me what you like [because] I'm always in the comments. I see when I press on that because I love to see how people react to things and they be cracking me up. It's the quick-wittedness of it all.
BET.com: As we celebrate Pride and Black Music Month, the BET.com audience must know — what's the Blackest thing you've done recently? And what are five summer songs that are in your rotation?
---
Ty Cole is a New York-based entertainment reporter and writer for BET.com who covers pop culture, music, and lifestyle. Follow his latest musings on Twitter @IamTyCole.