Interview: Lakeyah Discusses Signing To Quality Control And The Perseverance It Took To Make Her One Of Atlanta's Brightest Stars
The Milwaukee native also speaks about starring in the upcoming BET+ docuseries 'The Impact ATL'.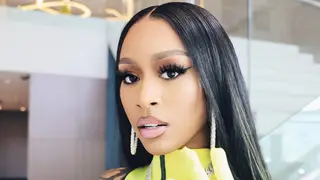 Lakeyah's journey hasn't been an easy one, but when the bright spots emerge from it, they often involve her love of music and talent with words.
Last year, the 21-year-old Milwaukee native became the first XXL Freshman from the Wisconsin city – from which she would eventually leave for Atlanta in hopes of striking it big in Hip Hop's southern Mecca. She also relocated with little direction, money, or a full understanding of the music industry.
Early on in Atlanta, Lakeyah tried whatever it took to make ends meet just long enough for her to get a shot from someone in the rap business. It was a grind she recalls all too well.
"I remember losing all my money before I got signed, trying to sell stuff on Instagram," she told BET.com. "Like, losing it all to the point where I couldn't pay my rent. And I was just like I gotta do something. And the only thing that came to mind was dropping a mixtape. And literally, I don't tell many people this, but I made $100k off dropping my own mixtape independently, on DSPs. And I feel like that just changed my life."
After releasing remixes of contemporary rap artists' songs, which helped showcase her lyrical ability over instrumentals familiar to prospective fans, Lakeyah caught the attention of Lil Baby and JT of the City Girls in 2020. The social media cosigns came at a very difficult time for her as she had to deal with a family tragedy.
"Around that time my cousin had passed away from murder and like I was just doing freestyles and doing stuff that was just very true to me and easy to me," Lakeyah remembers, adding that Quality Control Music's Pierre Thomas also discovered her during that period.
"[Lil Baby] cosigned me on Twitter and like not even a week or two later I was signed by [Pierre]," she explains. "But throughout all of this, I was doing car freestyles. I was dead broke in Atlanta, like just left high school. I had to work a job so I was just trying to sell stuff on Instagram. I was broke. But I was rapping. It was feeding me and it got me signed."
It's that personal struggle and perseverance that shines through in her new EP. Released on Friday (September 23), No Pressure 2 details much of what Lakeyah overcame, including uncertainty, a struggle to make her way in the music business and relationships fraught with disappointment.
"I feel like it's super important for people to know who I am so people can buy into me and really relate to me because I'm a super relatable person," she says. "It's just something you really got to put out there as artists because just as much as it's about the music, it's about people loving you as a person. So I want people to notice that it took a lot to get where I am today and I'm not even where I want to be."
Lakeyah fans and casual Hip Hop enthusiasts will also recognize hits like "Real B***h" and "Mind Yo Business (feat. Latto)" on the new project, making it a versatile mix of self-reflection and turn-up tracks heavily relatable to anyone trying to figure things out in 2022.
"I'm excited to just showcase my lyrical ability and like my versatile side because I feel like a lot of my radio records have shown that I can make those types of songs but it kind of made people forget that I can really, really rap," she says.
Aside from music, Lakeyah has focused much of her time on helping others secure bags through entrepreneurship via her ​​'Minding the Business That Pays' campaign, which spotlights Black-owned businesses in honor of Black Business Month. It's something she says is very important to her, considering it was well-established personnel in the Hip Hop industry that gave her an opportunity.
"I really just like to support Black-owned businesses because I feel like it's just changing the game as Black people, just having so many people turn into millionaires in this game nowadays, like people don't see that for us. And it's happening every day," says Lakeyah. "I saw a 17-year-old girl blow up from selling lip gloss and has her own cosmetic line. So I'm glad that I could put that on my platform and give people a little bit more shine."
"Shout out to my team at Motown because Jessica [Mortime] really came up with the idea and I feel like I executed it perfectly," she adds.
Lakeyah is also now getting in her on-screen bag a bit for good measure. Alongside Ari Fletcher and Jayda Cheaves, among others, she'll appear as a regular cast member in the upcoming BET+ docuseries The Impact ATL, which highlights some of Atlanta's influential entrepreneurs and artists.
"I'm excited for people to just see the grind that I put in behind everything that I do," she notes. "It's just me being personal, me showing who I am outside of everything else. So I'm excited, and plus, it was shot by QC Films, so you know I have to be a part of it."
As for what's next; a day after her new EP drops, Lakeyah is slated to perform at Rolling Loud New York, her second set at the festival franchise after she took the stage at the Miami edition back in July. She also says she's ready to start working on her major label debut album.
"I definitely want to start working on an album," reveals Lakeyah. "You know, I've been very focused on growing a fan base so that once I do, it does really well, but making the right records and collaborating with the right people from production for teachers is something I'm focused on.
"I've grown so much because I feel like my music just sounds a lot more mature and confident," she adds. "You can hear the confidence in my lyrics and my sound and my tone of voice now. And I'm learning that it's cool to be yourself, just being authentic. You don't have to blend in. It's best to stand out and people that mess with you, they gonna gravitate towards you regardless."
Stream Lakeyah's No Pressure 2 EP here.