Black America Votes: Live Updates From The 2020 Republican National Convention
Tune in to BET's daily news updates and primetime coverage of the 2020 Republican National Convention August 24 – 27, 2020.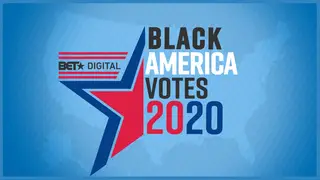 Kentucky AG Invokes Breonna Taylor, Attacks Joe Biden on Gaffe
10: 40 p.m. ET: 7:40 p.m. PT: Daniel Cameron, the Kentucky attorney general, who is investigating the police shooting death of Breonna Taylor, but who also has faced calls for months to arrest the Louisville officers involved in the incident, invoked her name while speaking to the Republican National Convention.
"Whether you are the family of Breonna Taylor or David Dorn, these are the ideals that will heal our nation's wounds," he said also bringing up the name of the retired St. Louis Police captain who was killed by looters at a pawn shop June 2 during a night of social unrest.
"Republicans will never turn a blind eye to unjust acts, but neither will we accept an all-out assault on western civilization," Cameron said.
He also criticized Democratic presidential candidate Joe Biden, who has been the subject of much criticism for a recent gaffe when he told "The Breakfast Club" host Charlamagne Tha God: "If you have a problem figuring out whether you're for me or Trump, then you ain't black." Biden, later apologized for the remark.
However, Cameron's response to that was: "Mr. Vice-President, look at me: I am Black. We are not all the same, sir. I am not in chains. My mind is my own. And you can't tell me how to vote because of the color of my skin."
The investigation of Taylor's death is continuing Cameron's office has said. No arrests of the three officers involved have happened yet.
Trump Shows Naturalization Ceremony During RNC Prime Time
10:20 p.m. ET/7:20 p.m. PT: In what seems like a juxtaposition of his immigration policy, President Trump presented a naturalization ceremony during the Republican National Convention, featuring five people from several nations taking the oath of citizenship.
Homeland Security Chief Chad Wolf administered the oath, to the new citizens. However, Trump has been criticized over his immigration policies ranging from what was called a "Muslim ban" in 2017 to the caging of migrant children in federal immigration custody.
However, in the naturalization ceremony, which took place at the White House, Trump seemed cordial to the new Americans.
"There's no higher honor and no greater privilege and it's an honor for me to be your president," said Trump.
Founder of Prisoner Re-Entry Program Gets Presidential Pardon During RNC

8:55 p.m. ET/5:55 p.m. PT: Jon Ponder, the founder of Hope for Prisoners, a Nevada organization he founded to help convicted felons re-enter society recieved an official pardon from President Trump during a pre-recorded presentation aired during the Republican National Convention.
"Not so long ago, my life was running from the police, fearing the police and avoiding the police, not because of anything the police had done to me personally, but due to the animosity I had allowed to grow inside of me making me believe they were my enemy," said Ponder, who had been convicted of bank robbery, but says he turned a new leaf after studying the Bible in prison.
He began Hope for Prisoners as a second chance for people who are looking to re-establish themselves. He was granted pardons by the Nevada Board of Pardons earlier in 2020. Trump's declaration of clemency eliminates a federal bank robbery charge from his record.
"Today, praise God, I am filled with hope — a proud American citizen who has been given a second chance," said Ponder.
Jacob Blake Included in RNC Tuesday Night Opening Prayer
8:35 p.m. ET/ 5:35 p.m. PT: In the first few minutes of the Republican National Convention on Tuesday evening, Rev. Norma Urrabazo of the International Church of Las Vegas offered up a prayer for Jacob Blake and his family among other prayers.
Blake is the African American man who was shot in the back by Kenosha, Wis., police on Sunday (Aug. 23) after reportedly attempting to break up a physical confrontation between two women.
Urrabazo called for "peace to come over hurting communities in Wisconsin tonight. We pray for healing and comfort to Jacob Blake and his family."
BET's 2020 Republican National Convention Coverage -- Day 2
Tuesday, August 25, 2020: Follow BET's coverage with our live blog for the latest updates from the Republican National Convention kicking off in Charlotte, NC. We'll feature news about the event, speeches, performances and commentary from August 24-27. 
Each night, the convention will include speeches from Party leaders, real people and members of the Trump family. The convention begins tonight with just 336 delegates (the 2016 convention had more than 2,400) to conduct the official roll call vote that will formally nominate Donal Trump as the Republican nominee for president. 
Tuesday evening, we will hear from First Lady Melania Trump and several of the Trump children will provide speeches from the White House Rose Garden, which the First Lady just had redone. Senior adviser and Trump son-in-law, Jared Kushner, is also rumored to speak. 
Also scheduled to speak will be Kentucky Attorney General Daniel Cameron, who is currently investigating the police shooting death of Breonna Taylor in Louisville
BET.com will have all the news updates that matter to Black America so stay tuned each day and watch from the CBS News: Race To 2020 live feed above from at 9-11 p.m. ET each night.