These Dancers Represent Black Culture Through Their Artform At Red Bull's Dance Your Style Competition
We spoke to Krow and Turfer Girl exclusively about the history of dance culture in the Bay area.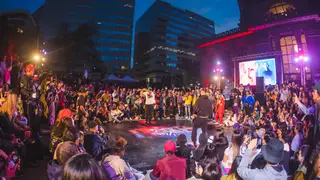 Dance is deeply embedded into every culture and for the Black diaspora, that rings doubly true. The genesis of hip hop music and corresponding dances has modernized and amplified our dance culture to epic proportions. From pop-locking and break dancing to turfin and crumping- these moves serve as a pivotal point of connection and community.
With the accessibility of a potentially massive audience given to individuals courtesy of the Internet and social media, dance has the power to be more consumed than ever and to truly change lives in the process. 
On Friday, May 6, the Bay Area's top street dancers arrived at Frank H. Ogawa Plaza in Oakland, California, ready to show their moves at a chance to be crowned the winner of Red Bull's Dance Your Style.  Red Bull's initiative Dance Your Style hosts 65 events in more than 29 countries throughout the year, with the purpose of highlighting and elevating the profiles of street dancers who have gained local fame.
With palpable energy filling the arena, competitors left their nerves behind them and stepped out onto the dance floor.
Ahead of the competition, BET sat down with Turfer Girl and Krow The God (KTG), two Bay area natives who shut down downtown Oakland with their awe-inspiring moves. See the full interview below. 
BET: How did you get started in Freestyle Dance?
Turfer Girl: When I was younger, I used to try to crump because you know, when Rise came out, that was the thing. But then, I wasn't really doing it how I should have back then. So I just picked up turf dancing. And I saw everybody gig and you know, that's what we call it out here. Everybody turfin and so that's how I got started. 
Krow The God (KTG): My sister introduced me to Breakin' & Beat Street. When I first saw those movies,  I fell in love with street dance. So when I discovered the street dance down here called turfing which originated in West Oakland I just fell in love with it. What made me a little bit different from all the other Turfers was that I wanted to expand my style. I ended up encountering a style in New York called flexing. And so when I saw that style, I said you know what, "I'm gonna find a way to fuse both of them". So when I did that, it made me I guess you could say to the people, ultimate dancer or elite dancer.
BET: How do you feel seeing the Turfin dance style on the main stage?
Turfer Girl:  It's honestly a wonderful feeling. Because Knowing where the style comes from and how underground turfin used to be, it's a very amazing feeling to see it just out there. Everybody's just been working really hard all these years, and we're finally seeing it at the front.
KTG: Finally, that's how I feel, FINALLY.  Because I feel like it's been a long time coming. We know the history of the Bay Area. We don't get the credit we deserve, and a lot of things get taken away from here. A lot of people steal the swag, style, and essence from us so I'm glad to see it.
BET: How does preparing for Dance Your Style differ from the other street battles you've been in?
Turfer Girl: Honestly, in this battle, I had to seriously mentally prepare. Because I feel like I've done all the labbing all the dancing that I really needed to do. But just seeing how big of a platform this is. I had to really just mentally put myself in that zone to just do my very best. I look at a lot of my old battles, I meditate a lot and I really have the thoughts in my head where it's like, just do your very best, and not hold anything back.
KTG: This is my second time being a part of Red Bull. So the first time I kind of went in more like a street dance style battle, and I see how it turned out. So this time is completely different. You gotta read the crowd completely. I think that's what I'm gonna do differently. This time I prepared actually for other genres of music. I always dance to other music but I would never really take it in since I do street dance style and it's normally raw and less commercial. I also normally meditate. I go hard and lab for a few weeks leading up to the event and then a couple of days before I rest. That gives me mental clarity. I like to go in with a fresh mind so my moves can feel fresh and I can dance freely and not overthink it. 
BET: What are you looking most forward to with Dance Your Style?
Turfer Girl: I'm ready for that crowd to just feel me. I'm ready to just come let it all out.
KTG: I'm looking to just wow the crowd. I'm coming in with a different energy. Before I had dark energy and now I want to be light.  I'm in a different headspace. I'm going in with a peaceful headspace. I want to show the crowd this light. 
BET: Hip hop dance culture and street dance culture are dominated by men.  So how does it feel being a Black woman competing with the guys?
Turfer Girl: I feel like I'm in a very powerful position. I'm happy to be here. And I'm just ready to just hold it down. It feels very good. I'm not the only one now. But back when I was younger, I used to really just be the only girl around. That made me dance harder since it's so male-dominated. But I'm loving it. I love the position that I'm in. 
BET: What advice do you have for the next generation of young Black creatives who may want to dance and get into this scene but don't necessarily know how to?
Turfer Girl: Always be yourself, be confident, and believe in yourself. Because if you don't believe, nobody else will. It can be tough sometimes. But you just got to always know that you you are doing your best. 
KTG: There are dance styles in Oakland, LA, Memphis, and even Brooklyn. You just gotta find your people. Look on social media, or talk to other kids in your neighborhood. Go out there and dance by yourself. All I can say is, be free. Be free with it. Do not let anything hold you back. Nothing.
This interview has been edited and condensed for clarity.