Did Tiffany Haddish Just Admit To Killing A Man?
She may have said too much.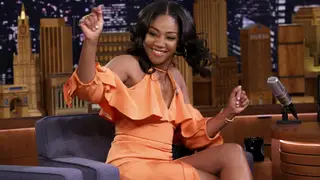 Tiffany Haddish has built a brand for detailing stories that tend to go viral, whether in a positive or negative light — unsure of this theory? Just take a look at #WhoBitBeyoncé-gate, which the comedian initiated.
Most recently, the Girls Trip star detailed a new tale where she came clean about killing a man on the dancefloor. Yep, you read that correctly. Haddish's dance moves are lethal — literally.
During a recent appearance on The Tonight Show Starring Jimmy Fallon, the actress spoke on her history as a bar mitzvah "energy producer." Things took a morbid turn when she detailed one night when things got a bit too hype for her dance partner.
"He had to be in his 80s," she said. "And I'm dancing and dancing, he's smiling and everything, and I turned around on him and I look at the people's faces in front of me, and their faces were going like this [big smile] and then went [prompts to dropped jaws in concern]. And I was like, 'What?' and I turned around and he was on the ground on his back."
She, later on, revealed that her elderly dance partner was rushed to the hospital and was pronounced dead, shortly after arriving.
"I didn't wanna dance no more," she added. "I felt like this a*s is deadly."
On a brighter note, Haddish said the man's daughter assured her that right before he died was the happiest his family had seen him in a while, and that was somewhat due to her charm.
Watch her explain it all, below: