Justice Department Will Not Reopen Tamir Rice Case
I'm devastated and disgusted by it," Tamir Rice's mother said in a statement.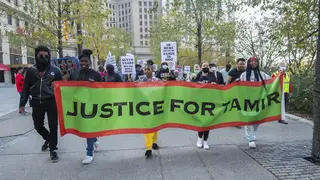 In April of 2021, the family of Tamir Rice asked Attorney General Merrick Garland to reopen the federal investigation into his death, after Trump administration Attorney General Wiliam Barr closed the federal probe in December 2020. The Department of Justice has now declined to reopen the case.
According to Cleveland.com, on Jan. 28, Kristen Clarke, an assistant U.S. attorney general, sent a letter to a lawyer for the Rice family stating they could not prove  that the Cleveland patrolman who killed Rice, Timothy Loehmann "acted willfully."
The statement read in part, "After reviewing and exhaustively evaluating the available evidence in this matter, in 2020, career prosecutors determined that the federal government could not meet this high standard. By no means should you view the department's 2020 decision as an exoneration of Timothy Loehmann's actions."
Samaria Rice, Tamir's mother, released the following statement, "[The Justice Department] made a poor decision. I'm devastated and disgusted by it. I have no understanding how a 12-year-old boy can't get justice in this country. I'm at a loss for words. It's pitiful and pathetic. It shows that the system is unfair and unjust."
Jonathan Abady, an attorney for the Rice family, also added, "The family is justifiably furious. There's no apparent recourse or relief through the Justice Department to hold these officers accountable for something that was essentially a drive-by shooting of a 12-year-old boy."
Loehmann fatally shot Rice, 12, in 2014 when someone saw him at a Cleveland park playing with a toy gun. Loehmann and another officer, Frank Garmback responded to the scene. In a surveillance video, their patrol car pulls up and a shot is fired at Rice within seconds, striking him in the torso. The officers later claimed they ordered him to show his hands, but he instead seemed to draw what they thought was a weapon. Rice died the next day.