Tracee Ellis Ross Sizzles In Latest Instagram Photos
We told you that she was that girl.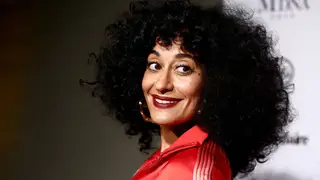 If you need a reminder of who that girl is, take a peek at the last post that Tracee Ellis Ross made on Instagram. You're welcome.
There's no doubt beauty runs in the family; after all, her iconic mother is the one and only Diana Ross, but Tracee is snatching our necks, and we can't get enough.
On Sunday (June 25), the Black-ish alum took to the social media platform to show us how it's really done, according to PEOPLE. Ellis appears demure and smoking hot at the same time while lounging on a bed in a pair of black pantyhose, matching sunglasses, and a lace bra; all the while, her curls are popping.
In the next photo in her carousel of images that we honestly don't deserve from her, Ross is seen sitting on a staircase casually dressed in a tank top and joggers while sporting an earbud. We've never seen an earbud look so captivating before. She is the only one who can get away with accessorizing like that. And just when our heart was about to stop, she commanded our attention with a photo of her chiseled face, no smile, just tons of grace.
Following that, the 50-year-old Pattern beauty founder serves us with a mysterious back seat photo. Revealing only what appears to be a green dress, a matching green quilted pattern bag on the floor, and her foot. She knows exactly what she is doing.
Our girl is ready for the summer, and so are we. She continues to slay the main character's energy while soaking up the sun in a series of sizzling photos. One as she accentuates her legs, while another captures her essence as she hides most of her face, only revealing a peek of her lips.
Although Ross has aged like fine wine throughout the years, the shape of her body has stayed the same. In April, she told PEOPLE that her curves have helped define her style preferences. "I have worn the same shape bikini since I was a teenager," she said. "It's just what works on my body. "
Always keeping us on our toes, Ross rounds out her sultry photo dump while showing her around-the-way swag. She rocks a set of cornrows, gold earrings, a black t-shirt, and a bright fuchsia lip color.
We told you that she was that girl.