Cardi B Reflects On How She Sometimes Misses Being Unknown
The Bronx rapper says having everything at her disposal "gets boring."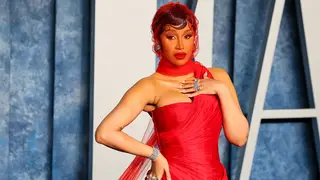 Cardi B is hot off of her fantastic verse on Latto's "Put It on Da Floor Again," but she says she still thinks about what her life path would've been had fame not consumed her.
Via Twitter, a user pondered why the Bronx rapper chooses to pose with guns in videos, like her latest Latto collab, when she's rich and famous. Surprisingly, her answer was very reflective.
"When is Cardi gonna transition to full millionaire like why are you posing with guns and things in the put it on the floor again remix video," the fan asked Cardi.
"You wanna know wats so crazy?" she replied. "I was tearing the other day cause I miss my old life... Sometimes having everything GETS BORING... But I won't complain it's not about me anymore. This is part of growing up and bout my kids... But yea PUT IT ON THE FLOOR !!!"
Considering how successful and distinctive she is, if Cardi wanted to return to her pre-fame self, it would be nearly impossible. Her debut album Invasion of Privacy, turned five years old in April, and since, she's been one of hip-hop's most noted figures.