Charlamagne Tha God Explains Why A Prenup Was Off The Table When He Married His Highschool Sweetheart
The radio personality and his wife Jessica Gadsden have been together for twenty-three years.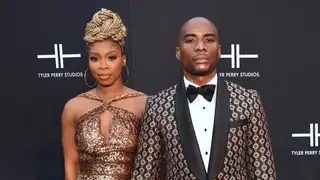 Charlamagne Tha God and his wife Jessica Gadsden have been together for twenty-three years, married for seven of those years. In a video that has surfaced online, the radio and TV personality revealed that the status of their relationship is solid and never-changing. This is exactly why the pair never signed a prenuptial agreement.
Charlamagne shared that his wife, who is a fitness coach and personal trainer, supported him throughout his career. She even supported him financially when he struggled to maintain a job in radio. "I don't have a prenup because me and my wife have been together for twenty-three years. Literally, the first time I ever went to a radio station to fill out an application for an internship, my wife drove me because my license was suspended," he recapped in the clip.
He added, "When I was getting fired from radio, four times, she was the one going to work every day and paying the bills. When we were getting evicted, she was the one going down to the courthouse, explaining to the judge why we couldn't get evicted. What the f**k I look like doing a prenup?"
Charlamagne recounted their relationship saying that he and his wife are high school sweethearts and that his oldest daughter is the reason he proposed to his wife. "You have to show your kids love. That's one of the reasons why I wanted to get married. When you have your 7-year-old daughter asking why you and mommy don't have the same last name, that affects you as a man," he explained.
Together, the couple has three daughters. The Shook One author and Tha God's Honest Truth host continued to praise his wife, saying that she is the "CEO" of their house.
Charlamagne also made it clear that divorce will never be on the table. "I don't even gotta knock on wood that sh*t ain't happening," he spoke into the room.